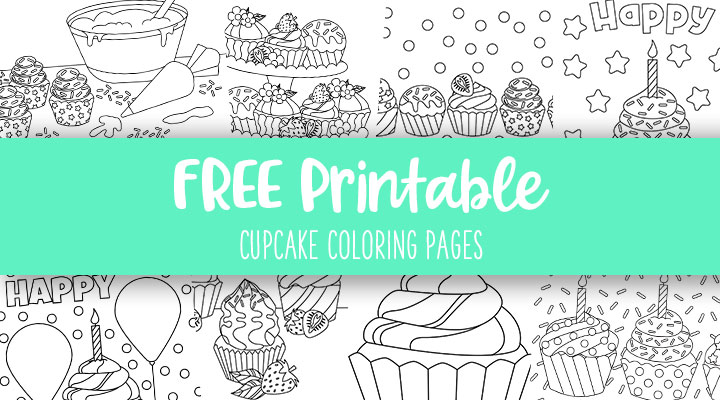 We think it's safe to say that everyone loves a good cupcake! Not only are they deliciously sweet but they are also so colorful and can be decorated and adorned in so many ways! If you've ever watched a child (or even an adult!) decorate their own cupcake you know how much they love to pick their favorite icing colors, sprinkles, and candy to add on top. It's pretty magical! But, of course, the best part of all is eating them!
While these 25 Free Printable Cupcake Coloring Pages (as well as multiple cupcake templates) are not edible they are just as magical in every other respect – your child can have so much fun picking out their own color combinations and adding their own ideas for decorating the iced tops. It is a wonderful opportunity for them to be creative! And you don't need a special occasion to color these cupcakes – while they are perfect for birthday parties they are also great just to color for fun any day! And perhaps the best part about these coloring pages is…there is no mess! Imagination and creativity can have their moment and in the end, there are only a few papers and some crayons to clean up. That's a win in our book!
To get started on coloring these cupcake coloring pages – whether it be the templates, the happy birthday ones, the ones with unicorns or sprinkles, etc. – all you need to do is:
Click on the image(s) you like the best (tip: you can print more than one, or even all of them!),
Download the PDF files to your computer, and
Print!
To see and download more of our coloring pages, be sure to check out our Free Printable Coloring Pages section!