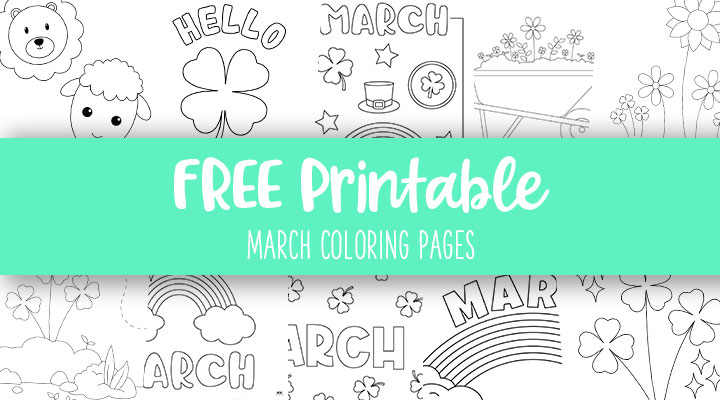 We wonder every year if March will come in like a lion and out like a lamb or if it will be just the opposite! Regardless of how the weather where you live shakes out, there's one thing we can count on: March being a lucky month!
Just as we created February Coloring Pages, we've also designed 25 Free Printable March Coloring Pages! These are perfect for children to color as they learn about the months of the year and would go along well with our free printable Months of the Year Worksheets. You could also use them in your home school or classroom setting to discuss the current month and the notable characteristics that make each month unique. Or if you have a bulletin board that you like to decorate or switch out for every month these would be perfect there too!
To download your free printable March Coloring Pages, simply take a look at all 25 options below, click on your favorite one(s), download the PDF file(s) to your computer, and print!
We'd say it's pretty lucky you found our site because we offer SO MANY free printables! In fact, you can print every single thing on our site for free, so we're happy you're here and suggest you take a look at some of our other free printable posts:
Free Printable Calendars (all of the 2023 monthly calendars are already posted here)
Free Printable Planners (you can make your own DIY Planner with our free printable planner pages!)
Free Organization Printables (including, but certainly not limited to, Note Pages, Weekly Planners, and To-Do Lists, just to name a few!)
Free Holiday Printables for all your holiday printing needs!
Free Educational Printables for teachers, young students, and older students alike!
Free Finance Printables to keep your personal finances in check!
Free Party, Event, and Birthday Printables because we always need a good gift tag or birthday card, amongst other things!
Free Printables for Parents to help with Bedtime Routines and Children's Chores
Free Printable Coloring Pages – literally hundreds, if not thousands of them!