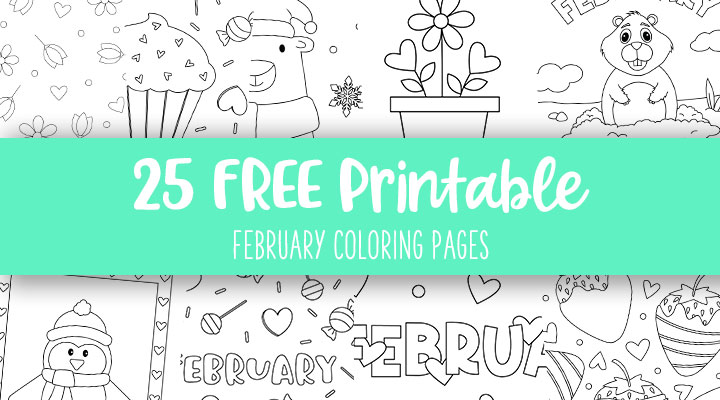 February is such a lovely month (pun intended). And while the weather in February may not be ideal where you live, there are still benefits to cold weather such as wooly socks, cozy sweaters, and mug after mug of hot cocoa and we think those are reasons enough to love this month!
Although February is mostly thought of for its main holiday, Valentine's Day, there are other ways to celebrate during this, the shortest month of the year, such as World Nutella Day (February 5th), National Pizza Day (February 9th), National Chocolate Mint Day (February 19th), and National Sticky Bun Day (February 21st), just to name a few.
So, yeah, we think February is a pretty special month (especially when the famous groundhog has good news for us!) and have created these 25 Free Printable February Coloring Pages to share with all of you! Whether you are an educator, a planner, or just like to color there is something here for what you need as these February Coloring Pages would be perfect for teaching all about this month to your students and children. If you like to plan your life by using monthly calendars and enjoy displaying monthly vision boards then there is something here for you too (we'd also recommend our free printable February 2023 Calendars)! And if you just love coloring, then you've also come to the right place as we would love for you to know about all our free printable coloring pages available on our site!
To get your Free Printable February Coloring Pages, simply click on the image(s) you'd like to use from the options below, download the PDF file(s) to your computer, and print!
If you're looking specifically for free Valentine's Day printables this month, check out some of our other posts:
Free Printable Valentine's Day Coloring Pages
Free Printable Valentine's Day Cards
Free Printable "Love" Coloring Pages
300 Free Printable Valentine's Tags
Free Printable Heart Coloring Pages