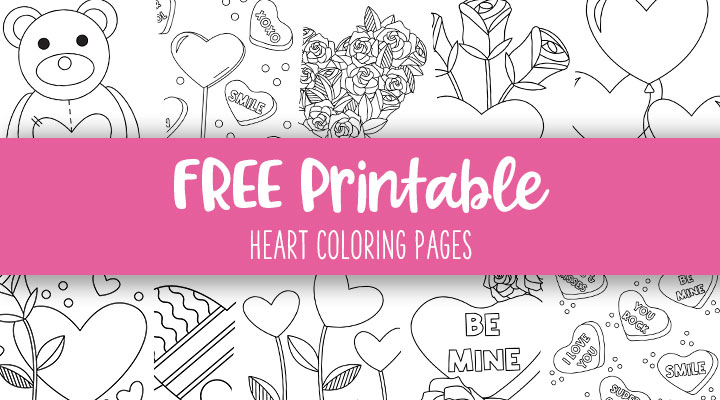 While love may be closely associated with Valentine's Day it is definitely not reserved for that holiday alone – love is for every day! And the symbol or shape most synonymous with love is, of course, a heart. Just think of the phrase, "I heart New York" or when people say, "I heart you" etc. we all know what that heart means: love. And love is something we can show every day, not just on extra special occasions!
These Free Printable Heart Coloring Pages, while admittedly perfect for Valentine's Day, are also excellent for any time you want to show someone you love and care for them. When a neighbor is sick you can take them a hot bowl of chicken noodle soup and a heart picture colored just for them. Any mom or dad would love a heart picture colored by their children any day of the week or even on Father's Day and Mother's Day. And don't forget that receiving a pretty picture in the mail will brighten any grandma or grandpa's day!
Since we heart you, we'd love for you to have these 25 Free Printable Heart Coloring Pages to decorate your fridge, turn into a coloring book (the process is similar to our Free Printable DIY Planners), or to give to your loved ones. Expressing your love for someone shouldn't be stressful, so the printing process for these coloring pages (and all the free printables on our site) is really easy and straightforward.
All you need to do is click on the image(s) below that you'd like to print, download the PDF file(s) to your computer, and print!
Now all you need are some colorful crayons, markers, colored pencils, etc, to color these pages and share them with all those you love!
We know we said these heart coloring pages weren't just for Valentine's Day, but if you happen to end up here because you were looking for Valentine's Day printables then we've got plenty for you!:
Free Printable February 2023 Calendars (for all your Valentine's Day planning needs)
Free Printable Valentine's Day Coloring Pages
100 Free Printable Valentine's Day Cards
Free Printable "Love" Coloring Pages
300 Free Printable Valentine Tags
Free Printable "Happy Valentine's Day" Coloring Pages