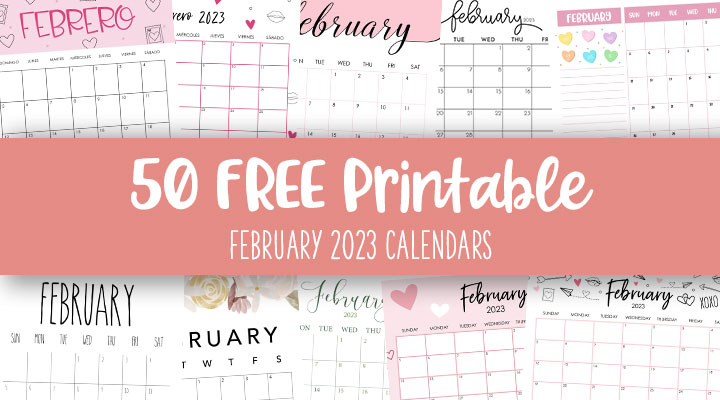 It is love month once again! We love being able to tell our family, neighbors, and friends how much we love and appreciate them! Every month is a busy month and February is no exception, which is why we are grateful to have a day set aside to remind us to slow down and let those around us know we care.
These Free Printable February 2023 Calendars are just the thing you need to organize all of your everyday activities and, for this month, also be able to write in your plans for showing your love and appreciation for your loved ones. Maybe you're going to make dinner reservations? Plan a special dinner at home? Bake heart-shaped cookies for neighbors? Personalize Valentine's Day cards for classmates? Purchase a special gift? Have your kids color pictures for family and friends? Whatever you decide to do, big or small, we're sure it will be welcomed and treasured by the recipient!
To get your free February 2023 Calendar, take a look at all the design and layout (and language!) options we have below. Click on the image of the one you like the best, download the PDF file to your computer, and print!
It's easy and free!
If you're looking forward to Valentine's Day as much as we are, make sure you jump over to some of our other posts to get even more free Valentine's Day printables!:
Free Printable Valentine's Day Coloring Pages
Free Printable Valentine's Day Cards
Free Printable "Love" Coloring Pages
Free Printable Heart Coloring Pages
Free Printable "Happy Valentine's Day" Coloring Pages
Lastly, it's not too late to stay organized for the entire year so don't miss out on all of our free printable 2023 planners and planner pages!!
Free Printable 2023 Planners <– This one has links to all the different free planner pages provided.
DIY Planner <– This one has helpful information on how to make your own planner from scratch with our pages!
Monday Start Calendars
Large Print Calendars
Calendars With Week Numbers
Spanish Calendars – Calendarios Imprimibles de febrero 2023