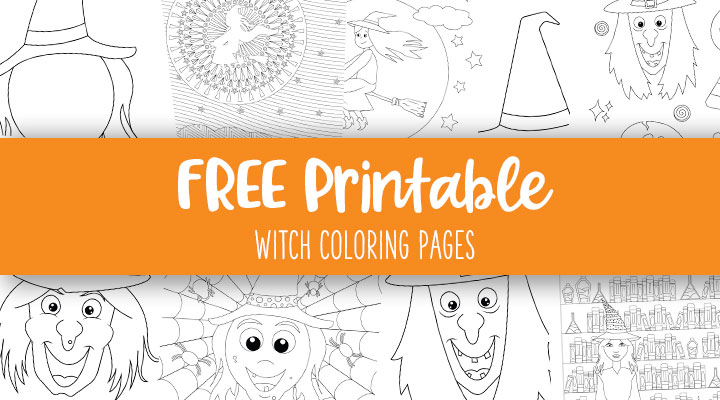 It's the time of year when football players, ghosts, princesses, and superheroes all appear on our doorsteps asking for a trick or an extra sweet treat. The most iconic Halloween costume of all, however, has got to be the witch – with her black robe, flying broomstick, and pointed hat!
Whether you've got an adorable little "witch" at home, a classroom full of children ready to participate in some fun Halloween activities, or an office coloring competition, these free printable Witch Coloring Pages (including witch hats, witch templates, witch faces, adult pages, and more!) are just the ticket!
Don't worry – getting your free printables is nothing scary. All you need to do is scroll through the free printable coloring pages below, click on all the images you'd like to print, download the PDF file(s) to your computer, and print! Now all that's needed are some colored pencils/crayons/markers and some magical coloring skills (no potions or cauldrons necessary)!
If you like these Witch Coloring Pages, we know you'll really love these other free Halloween printables from our site:
Free Printable "Booed" Signs (a fun neighborhood tradition!)
Free Printable Bat Templates & Coloring Pages
Free Printable Pumpkin Coloring Pages
Free Printable Halloween Borders & Frames
Free Printable Halloween Ghost Coloring Pages
Free Printable Halloween Signs
Free Printable Halloween Word Searches
Free Printable Halloween Cards
Witch Coloring Pages For Adults