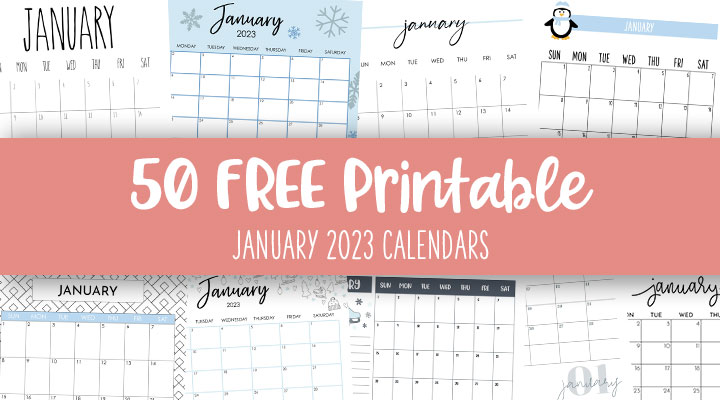 It's a brand new year! We're excited to see what this year will bring. One thing is for sure – we are going to do everything within our ability and sphere of influence to make sure it is a good one! Self-improvement is a great place to start and we're sure you've already started thinking about your goals for the new year. There are plenty of areas in which we can all improve: personal, social, family, financial, health, academics, and organization…just to name a few.
Writing down some attainable goals to kick off the new year will help you see them often and keep you on the track to success. Printing off one (or more) of our Free Printable January 2023 Calendars below will give you the perfect place to write what you will do every day to move towards reaching your goals. Or you can use them for scheduling or meal planning, amongst other things that you would normally print out a monthly calendar for. 😉
All you need to do to get your year started on the right foot is to scroll through the January calendars below, click on the image of the one(s) you like the best, download the PDF file(s) to your computer, and print! Now grab a sharp pencil and a cup of hot cocoa, and fill it all in!
In the spirit of organization, don't miss out on our free 2023 planners. There are 8 designs in 3 different sizes so we're positive you'll find a design and size you like! Every aspect of these planners is FREE!
Free Printable 2023 Planners <– This one has links to all the different free planner pages provided.
DIY Planner <– This one has helpful information on how to make your own planner from scratch with our planner pages!
If you have financial goals for this year, be sure to also check out our other free printable financial trackers, planners, and organizers:
Free Printable Expense Trackers
Free Printable Monthly Budget Planners
Free Printable Monthly Bill Organizers
If you want to be even more organized, make sure you head over to some of our additional free printable organizational posts:
Free Printable Hourly Planners
Free Printable Weekly To Do Lists
Free Printable Two Week Planners
Free Printable Monthly To Do Lists
Monday Start Calendars
Large Print Calendars
Calendars With Week Numbers
Spanish Calendars – Calendarios Imprimibles de enero 2023