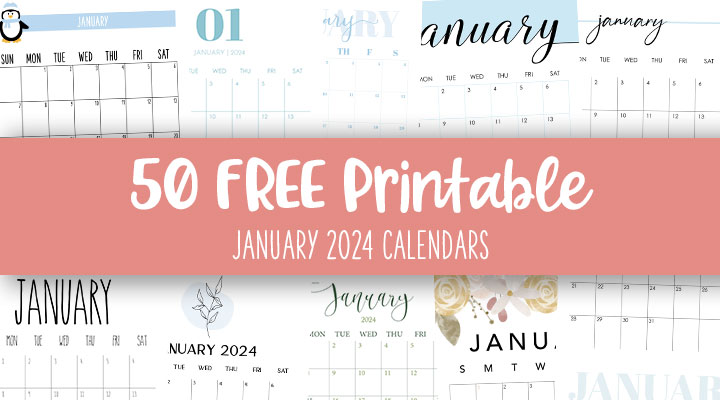 There's nothing we love more than a fresh start. Whether it's a new day, week, month, quarter, or in this case a brand new year, there is always so much optimism and motivation to be productive, more organized, and to just all-around improve in many aspects of life.
With so many areas in which we can progress (work, education, health, social, financial, spiritual, family, etc) it can seem overwhelming to try to improve drastically in each one all at once. But setting small, daily goals or changing habits even just slightly can, in the long term, result in considerable growth.
To help you succeed with your day-to-day goals and changes to your daily routines and habits we've got many Free Printable January 2024 Monthly Calendars below for you to use either as a checklist or to remind yourself of what your aspirations are each and every day of the month! And getting your hands on these printables is about as easy as it gets:
Click on the image of the calendar(s) you'd like to use,
Download the PDF file(s) to your computer, and
Print!
If only sticking to our New Year's Goals were as simple! But we know you can do it and hope that these January Calendars and some of the other free printables on our site with help you accomplish what you set out to do!
You may find some of these other free printables helpful in your 2024 goal efforts:
Free Printable Weekly To Do Lists
Free Printable Monthly To Do Lists
Free Printable Monthly Budget Planners
Free Printable Savings Trackers
Free Printable Expense Trackers
Free Printable Monthly Bill Organizers
Free Printable Assignment Trackers
Free Printable Cornell Notes Templates
Free Printable Body Measurement Charts
Free Printable Weight Loss Trackers
Without further ado, here are your Free Printable January 2024 Monthly Calendars!
Monday Start Calendars
Large Print Calendars
Calendars With Week Numbers
Spanish Calendars – Calendarios Imprimibles De Enero 2024