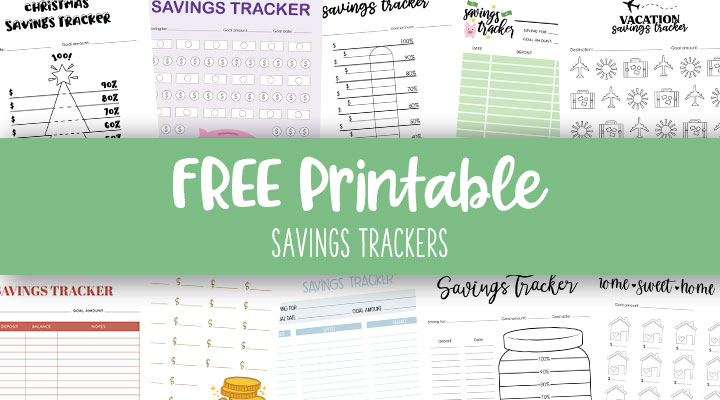 We all have something we're saving for or would like to save for. Whether you're saving up to have a rainy day or emergency fund, to go on a nice vacation, to put a downpayment on a house, to buy a car, or even to save up for big holidays like Christmas or birthdays, we have got 27 Free Printable Savings Trackers to help you achieve your goals!
Sometimes with goals, we start off with grand intentions only to stop working towards them because we don't see much initial progress. But when you track your progress in a visual way it's easy to observe that yes, there is some progress being made no matter how small it seems at the start! The more progress you see the more motivated you are to keep going and the more likely you are to actually achieve your goals (financial goals in this case)! It's kind of like a game – and in the end, there is a great reward!
To find a free printable savings tracker that will help you get to your financial goals, look through the options below, and if you see one that you like and that will help you in your savings goals, no matter what you're saving up for, go ahead and click on the image, download the PDF file to your computer, and print! Now get started saving those pennies and see just how fast they add up!

If you'd like to keep tabs on where the rest of your money is going be sure to check out our Free Printable Expense Tracker! And make sure to check all of our finance and budgeting printables!