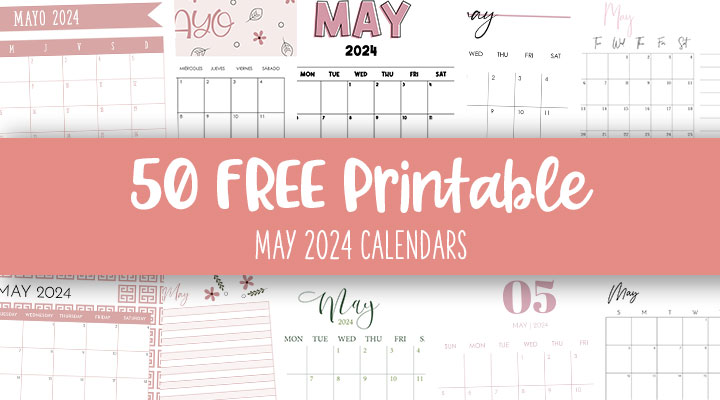 May can be an extra busy month between Mother's Day, Memorial Day, and in many places across the country, it even marks the end of the school year/the beginning of summer break! With so much to plan and do this month, we're sure these Free Printable May 2024 Calendars will come in handy when it comes to your organizational efforts!
MOTHER'S DAY:
If you're looking for some Mother's Day-specific printables, check out our Free Printable Mother's Day Coloring Pages! They're the perfect thing for children to gift (or add to a gift) to their Mother, Grandmother (or madre y abuela!), or any other mother figure in their life!
MEMORIAL DAY:
With so much food and other things to prepare it can sometimes be nice to have an easy, quiet activity for the younger crowd. Enter these Free Printable Watermelon Coloring Pages, Free Printable Firework Coloring Pages, and Free Printable American Flag Coloring Pages & Templates! Gather these printables and some crayons or colored pencils and you're well on your way to having a festive Memorial Day activity for your children!
END OF SCHOOL & BEGINNING OF SUMMER:
This time of year always sneaks up on us, but we've got you covered with some quick printables to help you out! If you used our Free Printable First Day of School Signs (or even if you didn't – there's always next school year!) you may want to take a picture of your child on their last day of school with our Free Printable Last Day of School Signs! Once your summer vacation has started you can print a Free Printable 2024 Summer Calendar to plan all your vacation and other doings, Free Printable Summer Bucket Lists to make sure you make the most of your summer time together, and Free Printable Summer Reading Logs to keep your children's mind sharp over the break from school!
To print any of the printable available on our site, including the Free Printable May 2024 Calendars below, all you need to do is simply click on the image of the printable you'd like to use, download the PDF file to your computer, and print!
If you'd like to be notified via email when we post more amazing free printables, be sure to subscribe to our blog using the "GET FREE PRINTABLES IN YOUR INBOX" section in our sidebar!
Monday Start Calendars
Large Print Calendars
Calendars With Week Numbers
Spanish Calendars – Calendarios Imprimibles De Mayo 2024