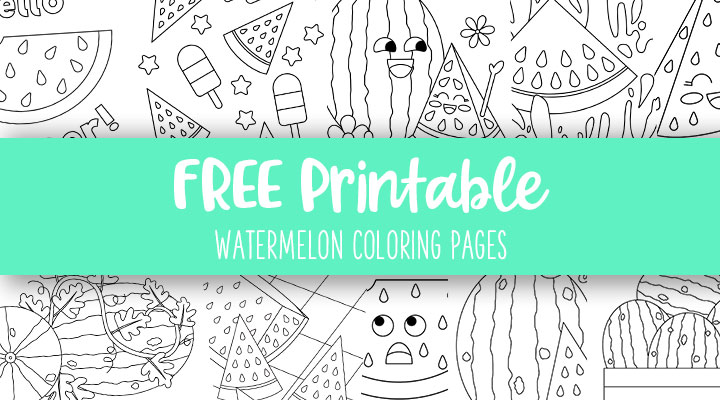 You never know when you'll need a watermelon coloring page. It could be a holiday where watermelon is a staple on the menu like the Fourth of July or Memorial Day, or maybe your child/student/class is learning about The Letter W or the color red. Perhaps it's snack time and watermelon is being served and coloring pictures of what they're eating will make your child all the more excited to eat it! Or it could be just a lazy summer day and you're looking for a fun activity to keep your children occupied for a little while. Now that we think about it, there are lots of reasons why we'd want to print out a bunch of watermelon coloring pages!
Luckily, we have 27 free printable watermelon coloring pages for whatever occasion you'd need! Besides being 100% free to print, the best part is that printing them is really, really easy.
All you need to do is click on the image(s) of the watermelon coloring pages you want to use from the options below, download the PDF file(s) to your computer, and click "print"!
If only slicing a big juicy watermelon was as easy and mess-free!
To see more of our Fourth of July printables, check out the posts below:
Free Printable Fourth of July Coloring Pages
Free Printable Pledge of Allegiance Words
Free Printable Firework Coloring Pages
Free Printable American Flag Coloring Pages and Templates
To see other alphabet coloring pages like the Letter W ones linked above, take a look at these posts:
Free Printable Alphabet Coloring Pages