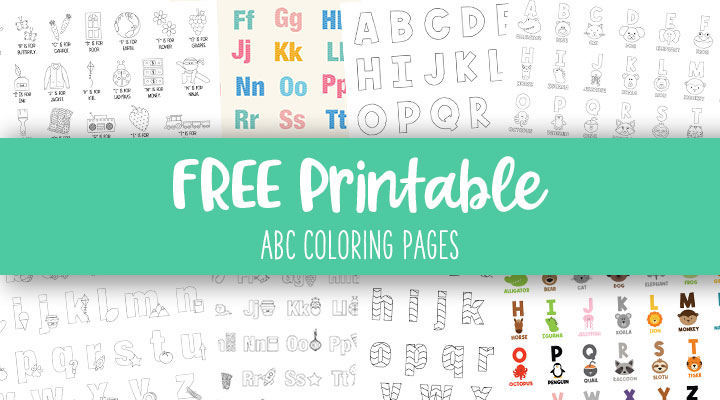 Learning the alphabet is such an important skill for young children to accomplish and is certainly very rewarding once it has been achieved! Children love to recite or sing the alphabet and being able to perfect the identification, sounds, and writing of all the letters is a catalyst to learning how to read!

We recently posted 26 Letter Coloring Pages with 15 unique designs for each one. It is a wonderful resource for teaching and learning one letter at a time. But if you would like to have the entire alphabet displayed or otherwise available for your children or students to see at a glance you have come to the right place! Below, we have 10 ABC Coloring Pages that go through the entire alphabet, A to Z. Some highlight the uppercase letters of the alphabet while others focus on the lowercase letters. There are even a few that spotlight both upper- and lowercase letters so you are sure to find one that suits your needs! AND each A to Z alphabet coloring page includes both a colorable version and a colored version so that both kids (learning) and educators (teaching and display!) can get what they need!

To download the free printable ABC Coloring Pages below, simply click on the image(s) you'd like to use, download the PDF file(s) to your computer, and print! It really is as easy as ABC!

And if you'd like to start our Alphabet Coloring Pages Series from the very beginning, make sure you jump over to The Letter A to get started! Or, if you're looking for a specific letter you can find them all on our Alphabet Coloring Pages page or at the bottom of this post by clicking here.

For more free printables geared towards parents and educators of younger children, we have a whole list of posts below that you may like!
Free Printable First Day of School Signs
Free Printable Attendance Sheets
Free Printable Student Information Sheets
Free Printable All About Me Worksheets
Free Printable Pledge of Allegiance Words
Free Printable Letter A Worksheets
Free Printable Months of the Year Worksheets and Printables
Free Printable Days of the Week Worksheets and Printables
Without further ado, here are the 10 free printable ABC Coloring Pages!
Letter Coloring Pages
Letter A Coloring Pages
Letter B Coloring Pages
Letter C Coloring Pages
Letter D Coloring Pages
Letter E Coloring Pages
Letter F Coloring Pages
Letter G Coloring Pages
Letter H Coloring Pages
Letter I Coloring Pages
Letter J Coloring Pages
Letter K Coloring Pages
Letter L Coloring Pages
Letter M Coloring Pages
Letter N Coloring Pages
Letter O Coloring Pages
Letter P Coloring Pages
Letter Q Coloring Pages
Letter R Coloring Pages
Letter S Coloring Pages
Letter T Coloring Pages
Letter U Coloring Pages
Letter V Coloring Pages
Letter W Coloring Pages
Letter X Coloring Pages
Letter Y Coloring Pages
Letter Z Coloring Pages