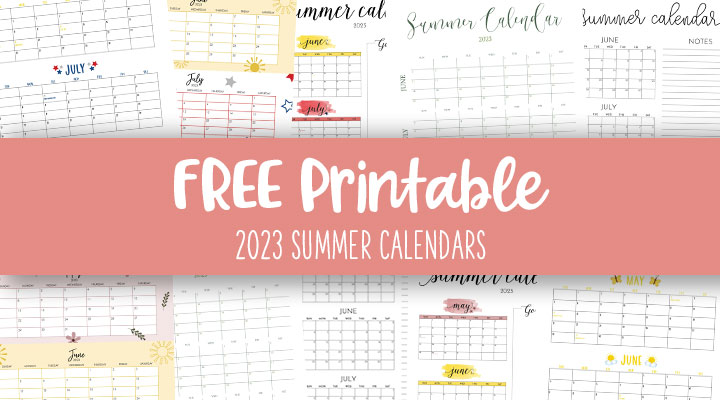 We know that the Thanksgiving and Christmas seasons are arguably the busiest of the year (and they are certainly busy, we know!) but perhaps the next busiest is summertime! Sure, it's supposed to be laidback, carefree, and lazy but between planning and implementing vacations, keeping up with playdates, hosting/attending barbecues, camping, hiking, going to the beach…we could go on and on…it is actually a lot of work! There are so many things to do in addition to our already hectic schedules that there is a definite need to be organized and plan our time well!
These 2023 summer calendars are a must for anyone who needs a little framework in which to plan their summer activities. These summer calendars, in conjunction with our free printable Summer Bucket Lists, guarantee you'll have a summer full of fun adventures and cherished memories before it's time for school to roll around again. And in the event you do happen to get a little downtime, print out some of our free printable Reading Logs to keep track of any reading goals you or your children have for the summer months.
To print anything on our site, including these 2023 summer calendars, all you need to do is click on the image of what you'd like to print, download the PDF file to your computer, and print!
For more free printables that will help you this summer, check out these posts:
Free Printable Fourth of July Coloring Pages
Free Printable American Flag Coloring Pages & Templates
Free Printable Pledge of Allegiance Words
Free Printable Coloring Pages (to help keep the kids busy!)
2023 Summer Calendars
Monday Start 2023 Summer Calendars