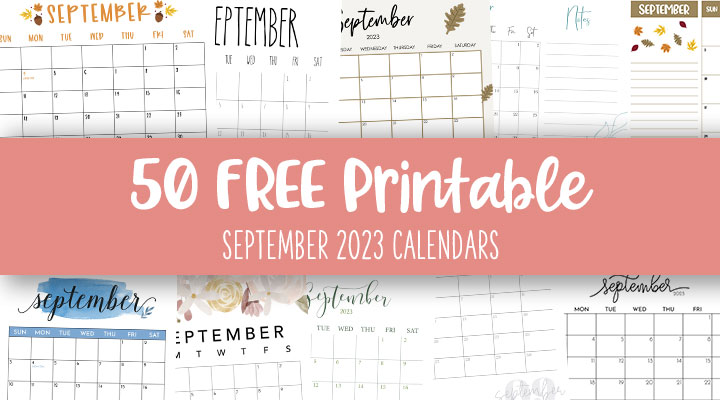 If school didn't start in August where you live it is surely starting this month! We love the fresh start of a new school year! We also love that the leaves are starting to change color and the weather is starting to cool down just a little bit. Besides school and amazing weather, September also brings with it new schedules and new commitments such as sports and other extra-curricular activities. We want to help you stay on top of it all with some free printable September 2023 calendars!
Below you will find 50 calendars that are both beautiful and functional! The hardest part is deciding which one will adorn your fridge (or notebook, or bulletin board…). But once you've selected the calendar that is just right for you the process is super easy:
Click on the image of the calendar you'd like to use.
Download the PDF file to your computer.
Print!
For more free printable back-to-school and educational resources, check these out!:
Free Printable Assignment Trackers
Free Printable Student Information Sheets
Free Printable "All About Me" Worksheets
Free Printable Addition Charts, Subtraction Charts, Multiplication Charts, and Hundreds Charts
Free Printable Days of the Week Worksheets and Printables
Free Printable Months of the Year Worksheets and Printables
Free Printable ABC Coloring Pages
Free Printable Alphabet Coloring Pages
Looking for even more calendars? Check out all of our free printable calendars!
Monday Start Calendars
Large Print Calendars
Calendars With Week Numbers
Spanish Calendars – Calendarios Imprimibles de septiembre 2023