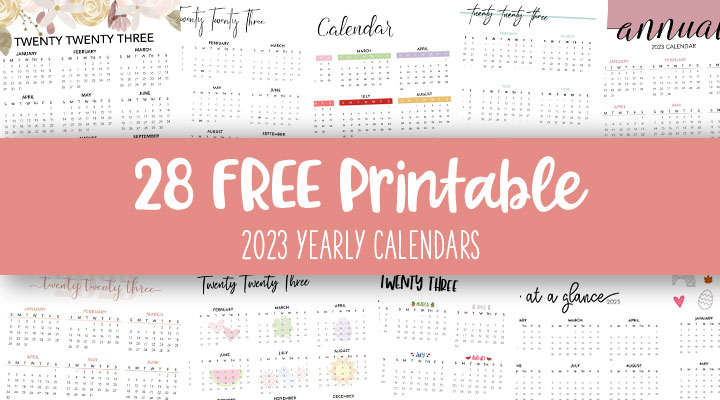 We love yearly calendars for the fact that we can have a broad view of what our year will bring! It's so easy to pencil in (read: circle) the big things: weddings, vacations, birthdays, and other major life events, and having that information while doing the rest of our planning allows us to work around those important occasions. The way we arrange our own personal planners is by putting the yearly calendars before everything else because they give us a greater sense of what is going on in our lives before diving into the nitty gritty details of quarterly, monthly, weekly, and daily planning.
Below, you will find 28 unique Free Printable 2023 Yearly Calendars that we know you'll love! You simply need to click on the image of the calendar you like best, download the PDF file to your computer, and print!
And since you're here, we know you're super big into being organized for 2023, and we recommend you check out our Free 2023 Planners! For more information on how to put them together, we've got a post on How To Make Your Own Free Planner! Our planner pages linked to above can look like the planner below!
You're going to knock that New Year's goal to be more organized out of the park!
For more free organizational printables, check out some of our other posts:
Free Printable Hourly Planners
Free Printable Weekly To Do Lists
Free Printable Two Week Planners
Free Printable Monthly To Do Lists
Free Printable Expense Trackers
Free Printable Monthly Budget Planners
Free Printable Monthly Bill Organizers
2023 Yearly Calendars
Monday Start 2023 Yearly Calendars