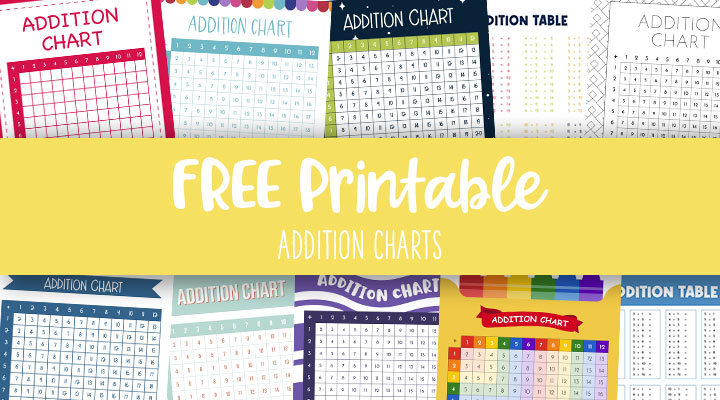 Right after learning how to identify their letters (free printable Alphabet Coloring Pages, anyone?) and their numbers one of the first skills children get ready to master is the addition of numbers 1 through 12.

Below, we have 20 Free Printable Addition Charts and Tables that are perfect for budding mathematicians to use in their memorization efforts…or even just for reference sake if they're just starting out. They come in a variety of designs and colors and even include some black and white options that are perfect for photocopying for a class or classroom. And when you are ready to test their abilities there are also some blank addition charts and tables for your students or children to fill in on their own.

The best part of all of this is how simple the printing process is! It's as easy as 1, 2, 3:
1. Click on the image(s) of the Addition Chart or Table you'd like to use.
2. Download the PDF file to your computer.
3. Print!
Be sure to check out some of our other math-related printables for your child/students:

Free Printable Hundreds Charts
Free Printable Subtraction Charts and Tables (these use the same 20 designs available here so are perfect for pairing together!)
Free Printable Multiplication Charts
Free Printable Numbers Bingo Cards
These also work great to laminate and put on a wall in your classroom or near your child/student's desk. If you're looking to use them in this way, here are some of our favorite supplies (affiliate links):
Addition Charts
Choose from any of the 15 unique addition charts below to help your young learner(s) master the basics of addition!
Addition Tables
Choose from any of the 5 unique addition tables below to help your young learner(s) master the basics of addition!