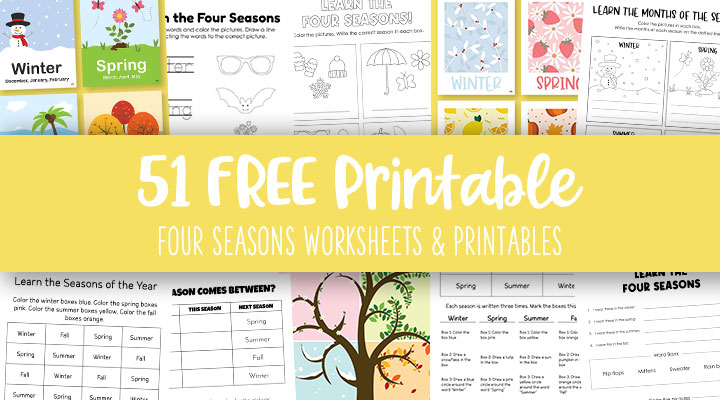 You may have seen our Free Days of the Week Worksheets and Printables and our Free Months of the Year Worksheets and Printables, and today we'd like to share with you our Free Four Seasons Worksheets and Printables!
As adults, we recognize that time is passing us by through changes in the weather, the types of activities that are available at various points of the year, and the varieties of food that are "in season" at any given point. Not to mention, knowing what to expect from each season helps us to choose the appropriate clothes to wear every day. All of these things are important for children to learn–we don't want them to assume they can wear shorts and sandals to school in the winter or that they'll be able to build a snowman in the summer, for example.
Below, you will find 35 free printable worksheets that will help your children and/or students learn the various and unique aspects of spring, summer, fall, and winter as well as 16 free printables to display in your home or classroom that will also help teach the four seasons. We know they will love learning what to expect from each season of the year!
To get any of the free printables on this post or anywhere on our site all you have to do is click on the image(s) you'd like to use, download the PDF file(s) to your computer, and print!
Click here to see more free educational printables!
Please note that any preview images with a yellow background simply indicate a multi-page PDF!
Four Seasons Worksheets
Four Seasons Printables