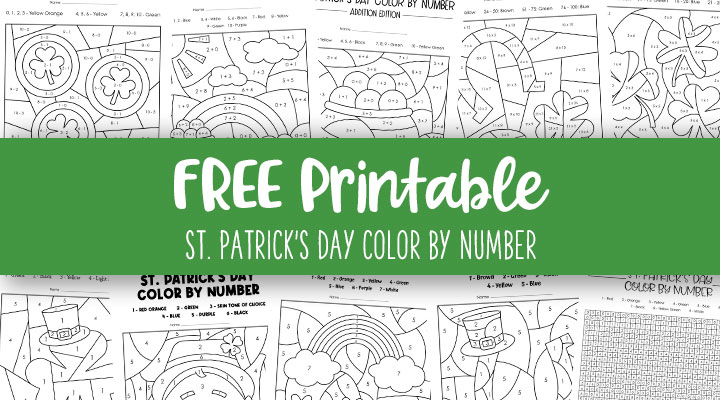 Color-by-number pages are one of our favorite coloring activities because the end result looks so much like a stained glass window! It is especially breathtaking when there are a lot of colors involved, which is why these St. Patrick's Day Color By Number pages are particularly remarkable! With all the rainbows, gold, and varying shades of green involved with St. Patrick's Day, there is plenty of variety when it comes to colors.
If you love St. Patrick's Day, or rainbows, or if you just like coloring in general, then these 10 St. Patrick's Day Color By Number Pages are perfect for you! Half of the pages are math-based (multiplication, addition, and subtraction) so that you can combine some fun with learning and the other half are just your standard color-by-number pages.
Either way, all you need to do to print them is click on the image(s) of the coloring pages you like below, download the PDF file(s) to your computer, and print! If only we could all find a pot of gold at the end of a rainbow as easily as we could print these free printables!
For more free St. Patrick's Day printables, be sure to check out some of our other posts:
Free Printable St. Patrick's Day Coloring Pages
Free Printable Shamrock Templates and Coloring Pages
Free Printable Leprechaun Coloring Pages and Templates
Free Printable Pot of Gold Templates and Coloring Pages
Free Printable St. Patrick's Day Word Scrambles
Math-Based St. Patrick's Day Color By Number Pages
Standard St. Patrick's Day Color By Number Pages