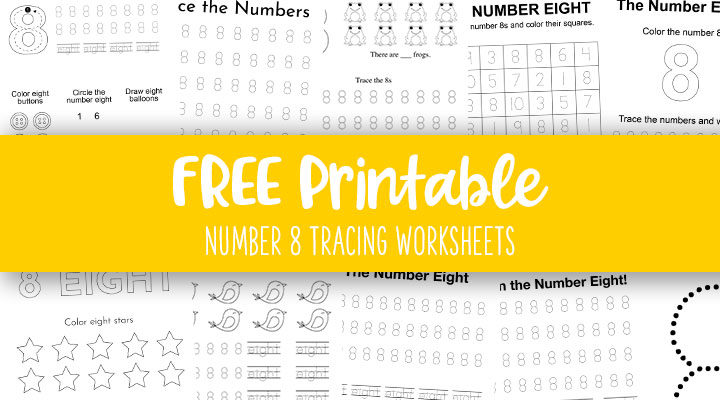 Octagons (such as stop signs) have eight sides and crayons come in a box of eight. Spiders have eight legs and an octopus has eight tentacles. If your preschooler, kindergartener, or first grader is wanting to know how to write and count the excellent number eight then you've come to the right place! Below, we have 15 Free Printable Number Eight Tracing Worksheets for you to print and use! With so many worksheets and multiple methods for learning the number eight (tracing, writing, counting, coloring, etc), we're sure you'll find something to encourage your little one to engage in learning this exciting number!
All you need to do to get your free printable worksheets is click on the image(s) of the worksheets you'd like to use from the options below, download the PDF file(s) to your computer, and print! Then grab some crayons, pencils, and/or colored pencils, and let the fun begin!
Ready to move on to the number nine? Hop on over to our Free Printable Number Nine Tracing Worksheets! Need to catch up on the number seven? No problem! Head on over to our Free Printable Number Seven Tracing Worksheets!
If you like these Number Tracing Worksheets we know you will absolutely love our free printable Alphabet Coloring Pages and Alphabet Worksheets! The Alphabet Coloring Pages make learning about each letter of the alphabet fun and entertaining while the Alphabet Worksheets provide many activities and games that allow children and students to really become a master of the alphabet. Of course, they are all 100% free to print and use and are perfect for children at home, in a homeschool setting, or in the classroom!