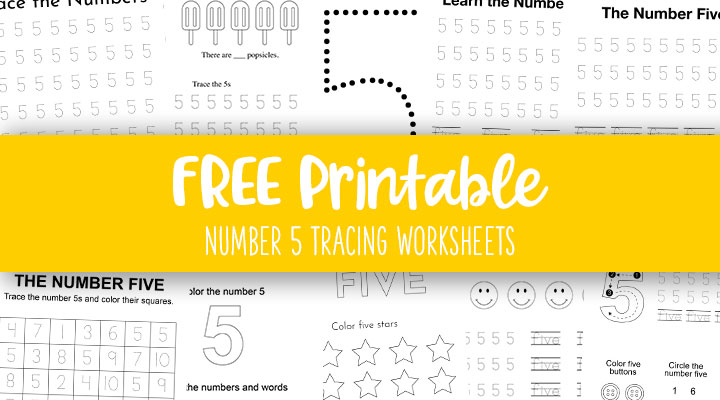 The number five is a fantastic number to learn. You can count five fingers on each hand (or five toes on each foot!), go to kindergarten when you're five years old, and you'll find five players on a basketball team. Knowing how to read, write, and count the number five are important skills to have which is why we've provided 15 Free Printable Number Five Tracing Worksheets for you to use in your homeschool or teaching endeavors.
All you need to do to get your children or students started is to scroll through the worksheets below, click on the images of the ones you'd like to use, download the PDF files to your computer, and print! Then give yourself a high-five for providing your child with a fun and educational activity that will get them ready for kindergarten!
Ready to move on to the number six? Hop on over to our Free Printable Number Six Tracing Worksheets! Need to catch up on the number four? No problem! Head on over to our Free Printable Number Four Tracing Worksheets!
If you like these Number Tracing Worksheets we know you will absolutely love our free printable Alphabet Coloring Pages and Alphabet Worksheets! The Alphabet Coloring Pages make learning about each letter of the alphabet fun and entertaining while the Alphabet Worksheets provide many activities and games that allow children and students to really become a master of the alphabet. Of course, they are all 100% free to print and use and are perfect for children at home, in a homeschool setting, or in the classroom!