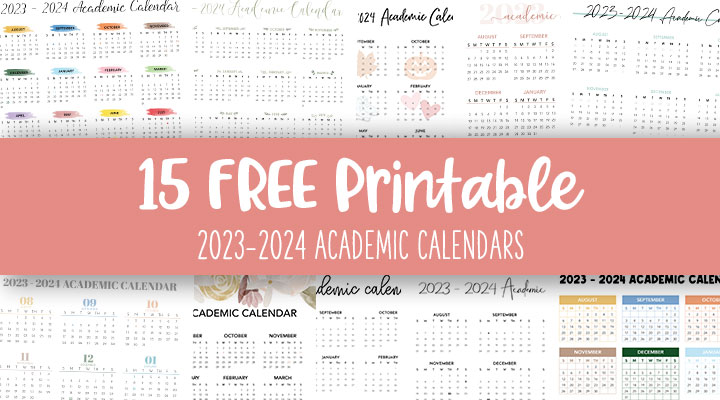 The 2023-2024 school year is right around the corner and we know that a lot of planning goes into how to schedule and carry out an entire year's worth of teaching. Academic calendars are wonderful tools for educators to ensure they manage to fit in all the required lessons, homework, and tests that they need to assign throughout the year, but they are also perfect for students to be able to arrange their time by writing in when classes are in session, when assignments or projects are due, and when they'll need to spend time studying or preparing for all the schoolwork ahead. Or perhaps you are a parent or employee who would just like a fresh start after the summer months and would like an August through July calendar (we've also included 3 calendars that run from July through June for those that start their school year in July. These are at the bottom of the post.) to write in all your important dates as well. For whatever purpose you intend on using these Free Printable 2023-2024 Academic Calendars we're sure you'll find a design to fit your needs!
To get your free printable, all you need to do is click on the image of the Academic Calendar you'd like to use, download the PDF file to your computer, and click the print button! That's it! Then it's just a matter of jotting in when your big (and small) events are. Consider using different colored pens for different classes, assignment types, etc. and then display it somewhere you will see it often such as on a fridge or on a wall by your workspace/desk. Good luck to everyone this coming school year!
Please note: the pink background you see in the images below will not print. The actual calendars are all 8.5″x11″ in either portrait or landscape orientation and have a white background. Each PDF will contain both the portrait and landscape versions and you can print just the version you prefer or both if you want.
August 2023 – July 2024 Academic Calendars
July 2023 – June 2024 Academic Calendars