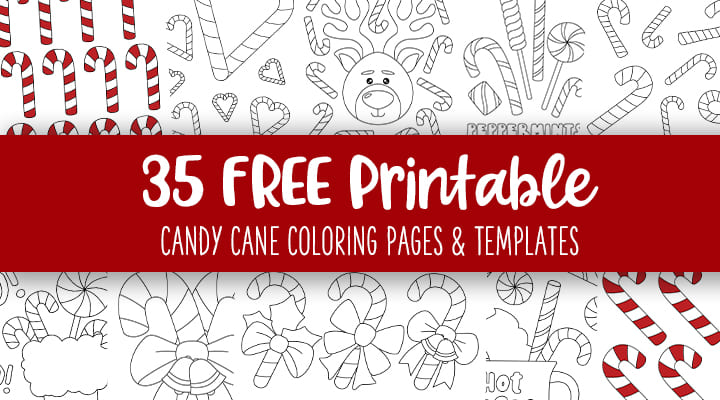 Not only are candy canes a tasty treat around the holidays – by themselves or baked into cookies and other goodies – but this iconic Christmas candy is also used for decorating Christmas trees, gingerbread houses, and everything in between. Candy canes are part of Christmas traditions due to their resemblance to the staffs or crooks used by shepherds to herd and protect their sheep and are said to represent the shepherds who came to see Baby Jesus in the Christmas story. While candy canes are most commonly found as peppermint-flavored candy sticks made of white and red stripes, there are also many other colors and flavors available today. Regardless of whether you favor the traditional minty flavor or prefer something a little bit different, odds are you feel a little nostalgia eating a candy cane at Christmastime!
As a fun and easy Christmas activity for you and your children or students, you can print out any (or all!) of the Free Printable Candy Cane Coloring Pages and Templates below and let them color to their heart's content! Simply click on the image(s) of the coloring pages you'd like to use, download the PDF file(s) to your computer, and print! Now all you need to do is lay them out on a table or assemble the coloring pages into a Christmas coloring book, grab some crayons/markers/colored pencils, and get coloring! Bonus: provide candy canes for all your little ones while they color! 😉
Looking for even more printables for Christmas? Check out our Free Christmas Printables and Free Printable Christmas Coloring Pages!
Candy Cane Coloring Pages
Candy Cane Templates