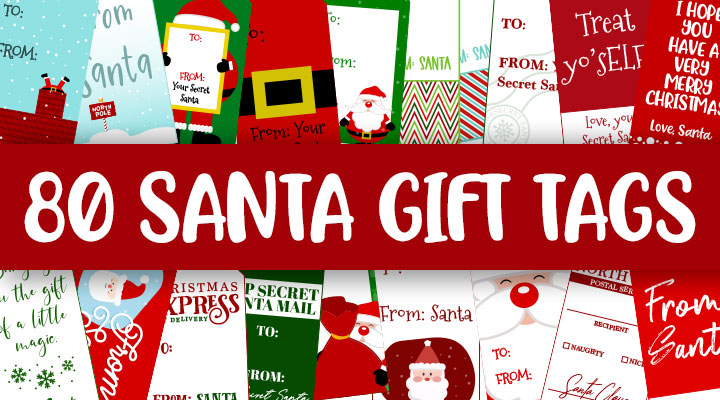 From a child's eyes the best part of Christmas is waking up Christmas morning and not only finding presents under the tree but finding a wrapped gift with YOUR name on it! As pretty as the wrapping paper and bows are, the tags or labels are where it's at.
There are two different kinds of labels:
1. The kind that you cut out + punch a hole + tie with a ribbon or string. These are best printed on cardstock (affiliate link) and look extra fancy.
2. The kind that you place directly on the wrapping paper like a sticker. If you're printing these from home you can certainly use tape on the back to get it to stick, OR you can create an actual sticker by printing directly onto a full sheet of sticker paper (affiliate link)! You don't need any special templates on your computer or anything like that. Because the entire sheet is one big sticker you can simply print whatever you want on it and then cut out your shapes.
All you need to do now is decide which gift tags and labels you want, click the image(s) to download the files, and then print them at home! It really couldn't be any easier. These Santa gift tags and labels may be free, but the smiles on your kids' faces Christmas morning when they find their name on them will be priceless!