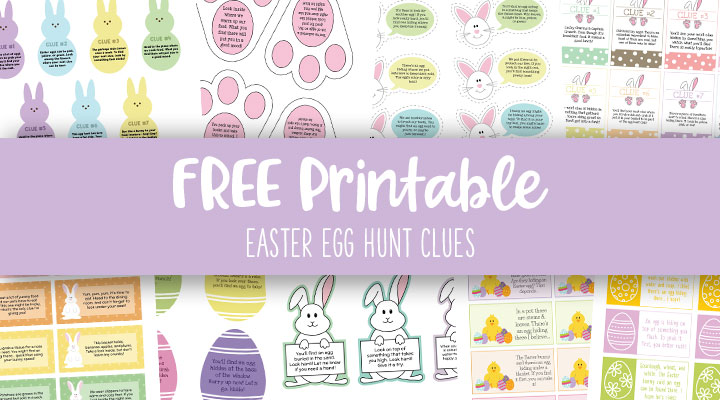 There are so many traditions that come with Easter. Whether they be food- or dinner-related, special Easter outfits, religious-centered events, or include the Easter Bunny himself, there is a lot of fun and anticipation that comes with the Easter holiday.
One tradition that is common in many households is an Easter egg hunt. Easter egg hunts can be done in many different ways including hiding plastic eggs filled with goodies, treats, little toys, or money around the house or in the yard for children to find – the first one to see it and grab it gathers it into their basket!
Another way to conduct an Easter egg hunt is to include little riddles or clues for children to solve in order to find where their prizes have been hidden. Below, we have 10 sets of Easter Egg Hunt Clues that are free for you to print and use! Six of the sets include clues intended for indoors, while four are designed to be used outdoors. Additionally, one set of clues of each type can be used in "sequential" order, meaning that clue #1 leads to clue #2 and so on and so forth until the little ones find the "big prize" or basket after solving the final clue. These sequential ones are the first set of clues in each section.
Regardless of which one you choose to print and use, each set comes with blank clue cards so if you love the design of a particular set of clues but want to use it in a different setting you are able to print blank cards and write in your own clues. If you do use the clues that we've provided you can find the answer key included with the set just in case you get stumped by the Easter bunny too! 🙂
To download your Easter Egg Hunt Clues, all you need to do is:
1. Make sure no kids are around. We don't want to ruin the surprise!
2. Look through all the options below and decide which set you'd like to use.
3. Click on the image of the one(s) you've decided upon and download the PDF file to your computer.
4. Print! We suggest using cardstock (affiliate link) to make them extra sturdy.
5. Cut out all the cards you need and hide your Easter eggs and/or gifts where each clue leads.
If you need to keep children busy while you get all of this done, we offer you a bunch of free printable Easter Coloring Pages and Easter Egg Templates to keep them happily distracted. It's a win-win for everyone!
Indoor Easter Egg Hunt Clues
Outdoor Easter Egg Hunt Clues