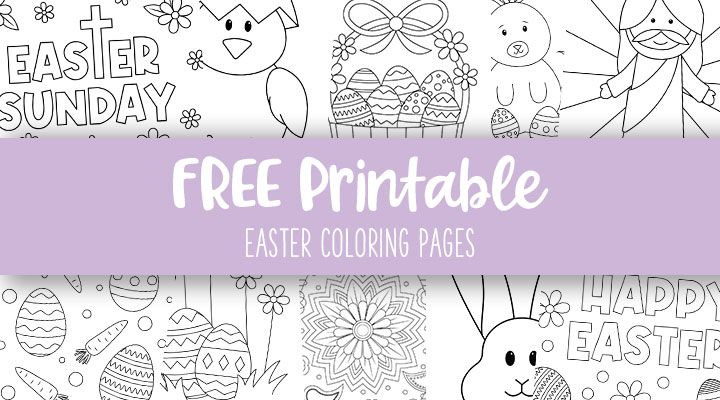 Easter is right around the corner and we couldn't be more excited! We've already printed out our Easter Egg Templates & Coloring Pages to use for Easter egg hunts and decorating (and for keeping kids happily coloring while we do it all!). Now, we've added even more fun to your Easter coloring options!
Below, you will find numerous Easter coloring pages with lots of different themes: Easter bunny coloring pages, "Happy Easter" coloring pages, Easter coloring pages for adults, more Easter egg coloring pages, religious Easter coloring pages, Easter basket coloring pages, and Easter chick coloring pages. In total there are 100 unique pages for hours and hours of coloring fun!

We love the idea of turning all these coloring pages into an Easter coloring book and either taking them to a print shop to have them spiral bound or by binding them at home with a binding machine (we use these binding spirals). (affiliate  links) Maybe the Easter Bunny will even make some coloring books out of these and leave them in your kids' Easter baskets! 😉

As always, the printables on our site are 100% free for personal/classroom/family & friends' use. And the process is always simple: scroll through the options below, click on the image(s) you'd like to use, download the PDF file to your computer, and print!

With every holiday comes a to-do list a mile long! Be sure to jump over to our free printable April 2022 calendars to help you stay on top of all the things you need to get done! Or, if you need a more detailed plan of action you can print out one of our printable to-do Lists. We also have weekly and monthly to-do lists as well.
Easter Bunny Coloring Pages
Choose whether you want to color just a bunny, the bunny's face, finish the bunny's face, color a bunny in an Easter setting, or some combination of all of the above with these Easter bunny coloring pages!
Happy Easter Coloring Pages
Use these "Happy Easter" coloring pages to keep your kids entertained, as decorations, or even as something to give to a friend or family member.
Easter Coloring Pages For Adults
Want to get in on the coloring fun? Choose from one of these three Easter coloring pages for adults that are much more detailed and intricate than the ones for the little ones!
Easter Egg Coloring Pages
Before or after your actual Easter egg hunt, choose any one of these Easter egg coloring pages for additional egg fun!
Religious Easter Coloring Pages
Combine your Easter fun with some Easter teaching about Jesus and the Christian message of Easter with these religious Easter coloring pages.
Easter Basket Coloring Pages
Whether your kids have already found their actual Easter basket or not, use these Easter basket coloring pages for more coloring fun!
Easter Chick Coloring Pages
Color these cute Easter chick coloring pages while you celebrate Easter and eat those delicious but sugary little peeps!