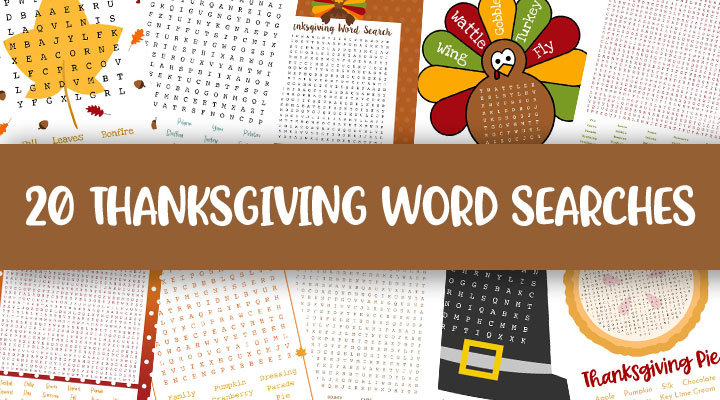 It never fails to amaze our team how much kids love to color! Several of us have younger kids and they absolutely lovvvveeeeee to color, which is why we've created so many Thanksgiving-themed coloring pages. Check out our Thanksgiving Color-by-Number Printables, our November Coloring Pages, and our Turkey Coloring Pages to see what we mean! And it doesn't hurt to have a bunch of free coloring pages on hand for arguably the biggest meal of the year! No pressure to all you chefs with kids out there! 🙂

BUT, while coloring pages are a great option for the younger-aged group, the older kids may lose interest after a while, so we have also created a bunch of Thanksgiving word searches (there are several fall-themed word searches as well!) to keep our older ones happy for a long time! And there are even a few easier ones for your little kids if they'd like to take a break from coloring and try a word search or two! In fact, the word searches fall into one of four levels of difficulty: easy, medium, hard, and very hard. So, no matter the age of your kids these word searches should work perfectly for Thanksgiving.

Scroll through the word searches below to find one(s) suited to your child's age(s), click to download, and print for free, right from home!
Thanksgiving Word Searches – Easy
Thanksgiving Word Searches – Medium
Thanksgiving Word Searches – Hard
Thanksgiving Word Searches – Very Hard