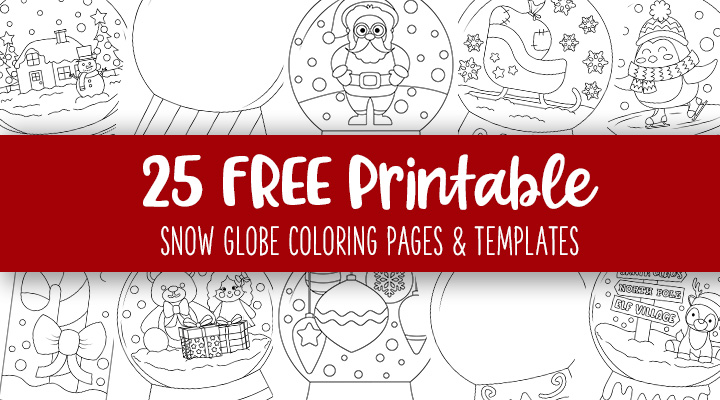 If you don't live in a place where it snows every winter (or even if you do!) you can appreciate the fascinating allure of a snow globe. A snow globe with any outdoor wintry scene within its glass sphere (such as Christmas trees, gingerbread houses, the Nativity, or even Santa flying through the sky with his reindeer) is enough to draw in any child and adult alike. Some snow globes need to be shaken in order to enjoy the blizzard-like event while others include a small fan within the base resulting in a continual snowy scene. Regardless of which type of snow globe you've enjoyed over the years, we've all loved the small, simple wintry landscapes that have had such a mesmerizing effect.
Below, we have several Free Printable Snow Globe Coloring Pages for your little one to enjoy and even some Free Printable Snow Globe Templates so they can create their own winter wonderland! All you need to do is click on the image(s) of the snow globe coloring pages or templates you'd like to use, download the PDF file(s) to your computer, and print! While there may not be any shaking required to appreciate these snow globe masterpieces, we believe that with any winter coloring session hot chocolate or a candy cane is a must! 😉
If you love using Christmas printables as much as we do then you'll find these Free Christmas Printables and Free Printable Christmas Coloring Pages to be especially helpful!
Snow Globe Coloring Pages
Choose from the coloring pages below to let your kids or students color to their heart's content!
Snow Globe Templates
Choose from one of the templates below to allow your kids or students to draw in their own magical winter wonderland!