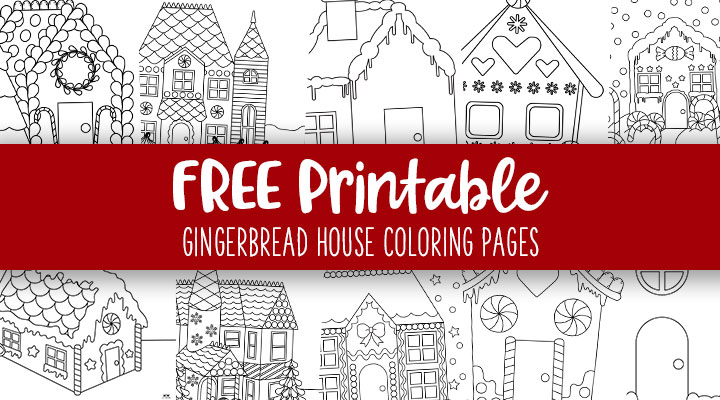 Decorating gingerbread houses is a favorite Christmas tradition. Who doesn't love an edible house made out of cookies and adorned with frosting and sweet treats?! While there are certainly many, many ways to build and trim a gingerbread house the image of a cookie-based house with peppermints, candy canes, and gumdrops is undeniably iconic.
Below are 25 different Gingerbread House Coloring Pages that are sure to keep children creatively engaged as they decide which colors to make the house and candy. With gingerbread houses, anything goes! And the end result is always stunning!
To print your free printable Gingerbread House Coloring Pages, follow these three easy steps:
Click the image(s) you'd like to print,
Download the PDF file to your computer, and
Print!
Now you have a wonderfully whimsical gingerbread house to decorate (read: color) to your heart's content…and without any of the mess or cleanup!
If you're looking for other Christmas Coloring Pages, check these out:
Free Printable Nativity Coloring Pages
Free Printable Santa Coloring Pages
Free Printable Christmas Tree Coloring Pages and Templates
Free Printable Gingerbread Man Coloring Pages and Templates
Free Merry Christmas Coloring Pages
You can also check out these Printable Christmas Games:
Free Printable Christmas Word Searches
Free Printable Christmas Word Scrambles
And a variety of general free Christmas printables here:
Free Printable Christmas Light Templates
Free Printable Christmas Wish Lists
Free Printable Christmas Thank You Cards
Free Printable Santa Gift Tags and Labels
Free Printable Santa Envelope Templates
Free Printable Santa Letterhead Templates
Free Printable "Dear Santa" Letter Templates
Free Printable Christmas Gift Tags
Free Printable Christmas Ornaments