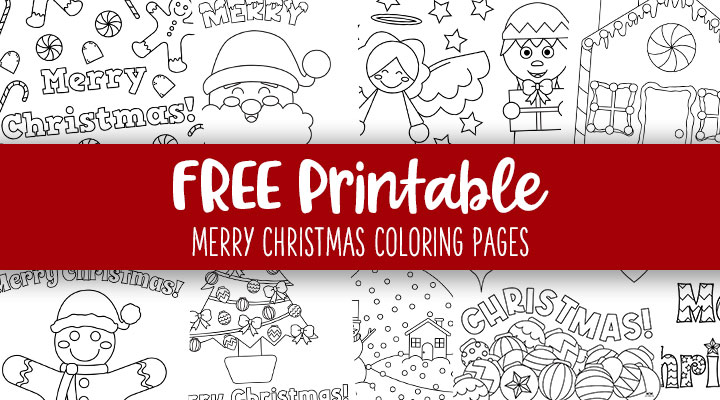 "Merry Christmas" is a greeting we hear very often this time of year! We hear it from young children, those who are "young at heart", and every age in between. It gets scattered around like snowflakes to friends, family, neighbors, and acquaintances and brings with it sentiments of love, joy, hope, goodwill, and happiness. We even see it displayed on wreaths, Christmas tree ornaments, cards, t-shirts, home decor, and on store-front windows. What a popular phrase it is!
These Merry Christmas coloring pages are perfect for keeping kids entertained while you're busy with all the things the holiday season brings and can even be used to give as gifts or to display on the wall or fridge.
And printing these "Merry Christmas" Coloring Pages is as easy as saying the expression itself! All you need to do is click on the image(s) you want to print, download the PDF file(s) to your computer, and print!
Now all you need are some crayons/colored pencils/markers to make these coloring pages as festive as they can be!
Looking for more free Christmas printables? If so, check out some of our other posts:
Free Printable Nativity Coloring Pages
Free Printable Santa Coloring Pages
Free Printable Christmas Tree Coloring Pages and Templates
Free Printable Gingerbread Man Coloring Pages and Templates
Free Printable Christmas Light Templates
Free Printable Christmas Wish Lists
Free Printable Christmas Thank You Cards
Free Printable Santa Gift Tags and Labels
Free Printable Christmas Word Searches
Free Printable Santa Envelope Templates
Free Printable Santa Letterhead Templates
Free Printable "Dear Santa" Letter Templates
Free Printable Christmas Gift Tags
Free Printable Christmas Ornaments