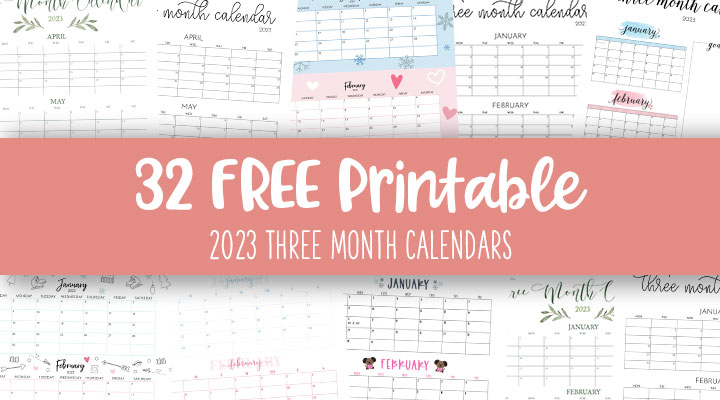 Whether you have personal goals, a target to reach for work, or just want to be able to see multiple months at a glance, these Free Printable 2023 Three Month Calendars (Sunday and Monday start calendars are available) are just what you need! Being able to look at one-fourth of the year at a time has many benefits including:
Keeping you on track to meet your short-term goals and targets for each quarter, which in turn allow you to achieve your long-term objectives.
The fact that it is so helpful in being able to plan (and plan around) appointments, vacations, and other major life events.
Getting to start over, adjust, and fine-tune your goals every three months no matter what! It's a built-in clean slate.
It's no wonder successful businesses (and households!) review their progress and productivity quarterly! If you want to be victorious in the pursuit of your own goals, then these three-month or quarterly calendars for 2023 are going to be perfect for you!
Getting your own free printable three-month/quarterly calendar can be achieved in just 3 simple steps:
Click on the design below that you love the most,
Download the PDF file to your computer, and
Print!
Now go about the planning and implementation of your goals and other pursuits!
Looking for more organizational printables? Check these out!:
Free Printable Hourly Planners
Free Printable Weekly To Do Lists
Free Printable Two Week Planners
Free Printable Monthly To Do Lists
Free Planners (DIY Planner Guide)
January – March / Quarter 1 2023 Calendars
April – June / Quarter 2 2023 Calendars
July – September / Quarter 3 2023 Calendars
October – December / Quarter 4 2023 Calendars