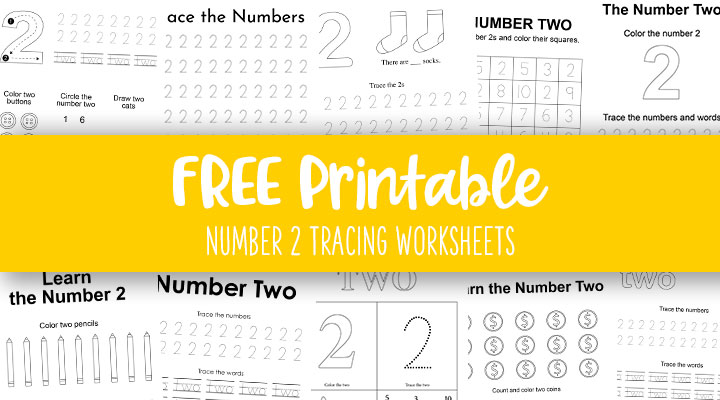 Two is a terrific number and is perfect for counting twins, BFF's, and turtle doves. It also cuts your counting time in half once you've learned to count by 2's. And if you have two of something it makes it easier to share with a friend! It is pretty obvious to us that the number two is a very useful number to know!
These Free Printable Number Two Tracing Worksheets are just the thing you need to teach your preschooler, kindergartener, or first grader how to trace, write, and count the number two. With 15 worksheets and several activities to choose from we're confident you'll find something that will keep them happily engaged while learning about this handy number
To download and print these number two worksheets all you need to do is click on the images of the worksheets you'd like to use below, download the PDF files to your computer, and print!
Ready to move on to the number three? Hop on over to our Free Printable Number Three Tracing Worksheets! Need to catch up on the number one? No problem! Head on over to our Free Printable Number One Tracing Worksheets!
If you like these Number Tracing Worksheets we know you will absolutely love our free printable Alphabet Coloring Pages and Alphabet Worksheets! The Alphabet Coloring Pages make learning about each letter of the alphabet fun and entertaining while the Alphabet Worksheets provide many activities and games that allow children and students to really become a master of the alphabet. Of course, they are all 100% free to print and use and are perfect for children at home, in a homeschool setting, or in the classroom!