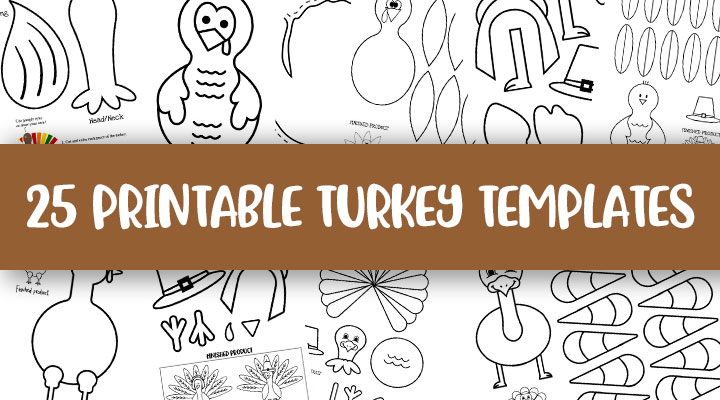 While there is always the need to keep kids occupied on Turkey Day proper (printable Thanksgiving placemats anyone!?) so that everything for the big dinner can get done in a timely fashion, there are tons of fun Thanksgiving activities for kids (here's a fun one: thanksgiving color by number pages) done throughout the crazy month of November (stay organized: free printable November calendars). And in our homes at the very least these fun activities often end up on the counters, walls, fridge, and anywhere else they can tape it to or make it visible as a decoration.
One of the fun activities we like to do is with turkey templates. In the past, we've done just about every craft and activity with turkey templates that you can imagine and have tried to provide free templates for each of these types of activities below. From your classic color and cut templates, to hand turkey templates, to cut and build turkey templates, blank turkey templates, thankful or i am grateful turkey templates (we also have 'I Am Grateful' printables over here), and finally pine cone, paper plate, and paper cup turkey templates. We've included 5 sheets of printable feather templates so you can mix and match when building your turkeys! Phew! With over 25 turkey templates, some including multiple pages of fun, there is no way you can't find what you need if your kids are looking to create some fun turkey decorations for Thanksgiving this year! (Here are all of our free Thanksgiving printables!)
To download any of the templates or cut-outs below (or all of them since they are 100% free!), simply click on the image you like, download the PDF, and print it from the comfort of your own home. Happy turkey building!
Please note that some PDFs have multiple pages whereas only one page is shown below. Thus, look at the "Finished Product" to see what your turkey will end up looking like with the additional pages of "turkey parts" that come with it.
"Crafting" Turkey Templates
Choose from the pages below if you're looking to create a turkey beyond the "cut and glue" or "color only" approach. The ones below are turkey templates to be used with a pine cone, paper plate, and paper cup respectively. Enjoy!
Printable Feather Templates
See a turkey above that you love but you want to swap out the feathers? Or maybe your kid just wants their turkey to have a variety of feather types! Either way, the printable feather templates below will give you even more flexibility in creating your turkey!