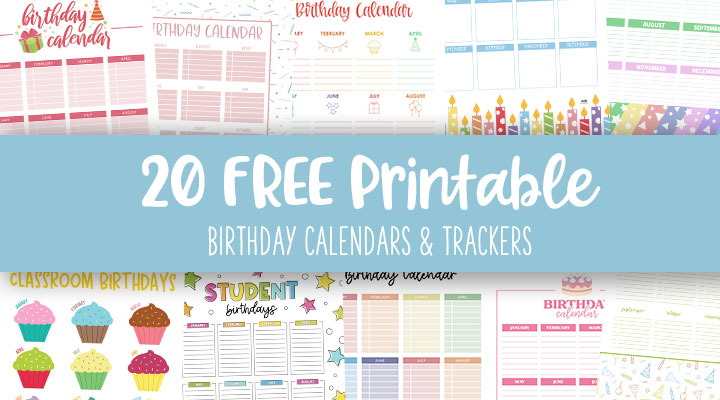 Calling, texting, sending a birthday card, or otherwise celebrating someone's special day can mean the world to them and lets them know that you care. An elaborate gesture is not necessary to achieve the desired result so whether you give gifts, take them out for dinner, or sincerely and simply wish them a "Happy Birthday" it will undoubtedly put a smile on their face. And boy, do we love an opportunity to let someone know that we remembered and are thinking of them on their birthday!
The older we get (or the bigger the class size you might have) the harder it is to keep track of all the birthdays (not to mention the anniversaries!) of everyone we know. Between a growing family and extended family, the number of friends we've made through the years, the number of coworkers we've associated with, and the more people we've met within our circles, it can become quite the task to remember every birthday no matter how well-intentioned we are and how great our memory is!
Enter these Free Printable Birthday Calendars & Trackers: there is a place for you to write in everyone's birthday so there is no forgetting or overlooking. By being this organized about birthdays you will always know in advance who is getting ready to celebrate their special day and can be prepared to wish them a Happy Birthday or to have a gift ready.
These Birthday Calendars are perfect for office use (we're looking at you, HR), school classroom use (because children get so excited about celebrating their own birthday and those of others!), and of course for personal and family use.
To get your own Free Printable Birthday Calendar & Tracker, all you need to do is scroll through the options below, download the PDF file to your computer, and print! Then every time you come across or learn about someone's birthday you can mark it on your calendar to remember each and every year moving forward.
For other calendars to keep you organized in plenty of other ways, check out all of our Free Printable Calendars!