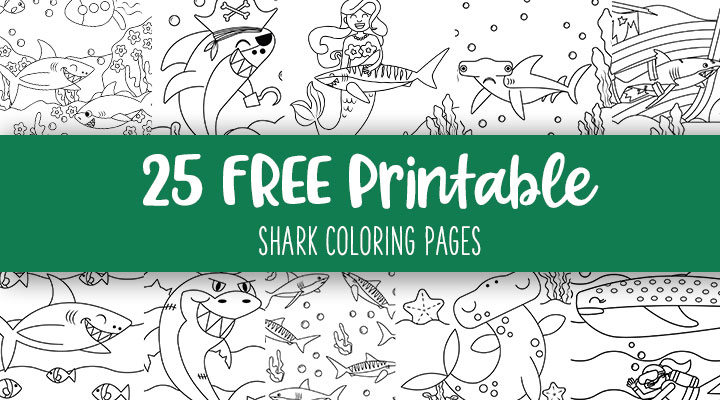 If you've been anywhere near water you may have come across a shark or two. Hopefully, you haven't seen them too up close, but if you've vacationed at the beach you may have noticed a dorsal fin or maybe even a shark tail peeking out above the water far out in the ocean (yikes!). You may have also seen a shark if you've visited certain aquariums that showcase specific shark varieties (our shark coloring pages feature Hammerhead, Whale, Tiger, and Great White sharks!). For the majority of people, though, shark toys in the bathtub or pool are where sharks are most often enjoyed and can be safely played with!
Many children become fascinated with sharks at one point or another and these 25 Free Printable Shark Coloring Pages are certainly a fun way to keep shark-loving kids happily entertained! And while sharks in real life can be scary to some, the ones illustrated on these coloring pages are cute and adorable and have no fear factor at all. 🙂
All you need to do to print these shark coloring pages is click on the image of the coloring page(s) you'd like to use, download the PDF file(s) to your computer, and print! That's it! Then grab your favorite coloring medium (colored pencils, crayons, markers, etc) and get busy coloring!