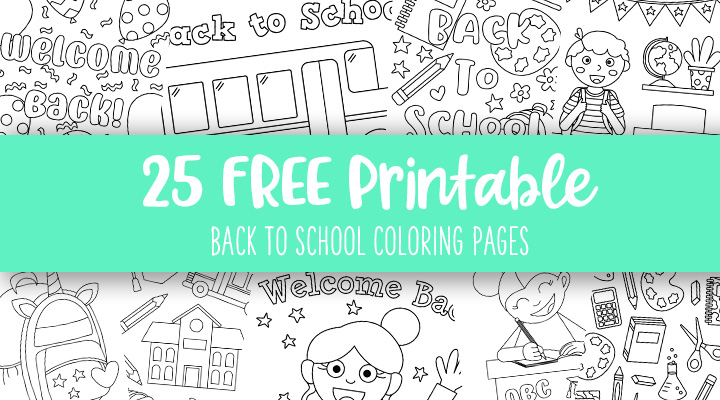 The annual back to school season is right around the corner and we know from experience that many students can be both excited and nervous to start a new school year, especially elementary school children. That's why we've created these Back to School Coloring Pages that parents and teachers can print for free to help ease some of their little one's uneasiness about starting a new school year (or to just have some fun coloring as the school year gets started!). These coloring pages can be used to generate a sense of adventure and motivation for the upcoming year as well as calm any of their fears by visually seeing the types of things that they can look forward to doing, seeing, and using in the classroom.
Just grab some crayons/colored pencils/markers or whatever medium your child(ren) like to use to color with, several of these Free Printable Back to School Coloring Pages, and then give your child or student as much time as they'd like to color the images of all the wonderful things they can look forward to this coming school year!
To get your free back to school coloring pages/sheets, simply click on the image(s) of the coloring page(s) you'd like to use, download the PDF file(s) to your computer, and print! You can print as few or as many as you'd like to give to your children and/or students.
And if you're looking for even more free back to school printables be sure to check out some of our favorites:
BACK TO SCHOOL RESOURCES FOR PARENTS AND STUDENTS:
Free Printable First Day of School Signs (great for taking pictures on your child's first day of school!)
Free Printable Assignment Trackers
Free Printable Cornell Notes Templates
BACK TO SCHOOL RESOURCES FOR TEACHERS:
Free Printable Student Information Sheets
Free Printable All About Me Worksheets
Free Printable Attendance Sheets
BACK TO SCHOOL RESOURCES FOR PARENTS, TEACHERS, AND STUDENTS:
Free Printable Alphabet Worksheets (there is a separate post for each letter of the alphabet with 50 printables in each post!)
Free Printable Alphabet Coloring Pages
Free Printable Addition Charts
Free Printable Subtraction Charts
Free Printable Multiplication Charts
Free Printable Hundreds Charts
Free Printable Days of the Week Worksheets and Printables
Free Printable Months of the Year Worksheets and Printables
Free Printable 2024-2025 Academic Calendars (Coming Soon!)