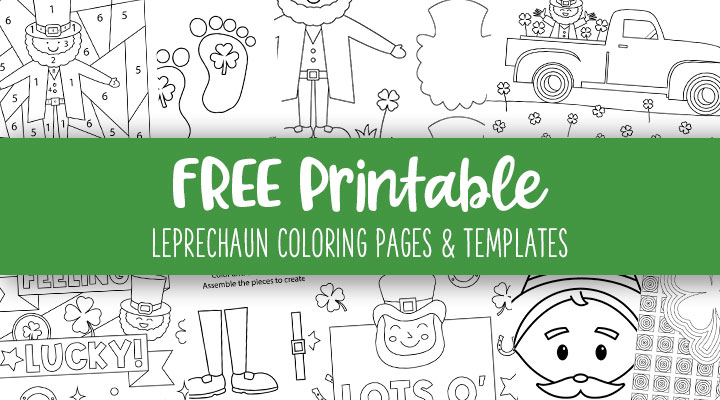 We mentioned in a previous post about Saint Patrick's Day coloring pages that the best way to catch a leprechaun is to entice him with candy, gold coins, and anything colorful. Obviously, coloring St. Patrick's Day-themed coloring pages with bright colorful crayons or colored pencils would be the perfect thing to get your leprechaun's attention! But if you really want to charm him and give yourself your best chance at catching him, these leprechaun coloring pages, templates, and activity pages take the "anything colorful" to the next level.
Below, you will find 50 leprechaun coloring pages and printables (including 3 coloring pages that would be fun for adults), plenty of templates to help you draw your own leprechaun, and lots of leprechaun activity pages (think color-by-number, draw the face on the leprechaun, and build-a-leprechaun!). All of them are–just like everything else on our site–FREE! The trickiest thing will be choosing which pages to print! And, of course, catching the leprechaun with an amazing trap, but we'll leave that part to you…
To get started all you need to do is scroll through all the options below, click on the one(s) you want to print, download the PDF file to your computer, and print! Now add some crayons and/or some sharp colored pencils, and you're good to go!
For even more fun, be sure to check out our Rainbow coloring pages!
For even more free printable St. Patrick's Day Printables check these posts out:
Free Printable Shamrock Templates and Coloring Pages
Free Printable Pot of Gold Templates and Coloring Pages
Free Printable St. Patrick's Day Word Scrambles