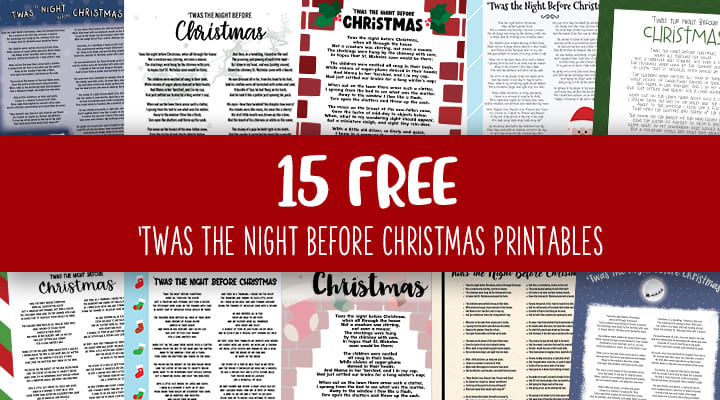 If you hear or read the words, "'Twas the night before Christmas…" we're almost certain you'd be able to finish the sentence and perhaps even more! The Night Before Christmas, a poem written by Clement Clarke Moore (and technically entitled "A Visit from St. Nicholas"), has been enjoyed by children worldwide for 200 years and has been read year after year as they listen with awe about Santa's yearly Christmas visit. If your class is getting ready to recite this poem or if you would just like to have the words available in your home to read to your children this Christmas then we've got plenty of Free "Twas the Night Before Christmas" Printables below for you to print and use!
All you need to do to get your free printables here or anywhere on our site is to follow these three easy steps:
Click on the image of the printable you'd like to use,
Download the PDF file to your computer, and
Print!
The more you read this poem to your children this Christmas season, the more the words of this magical story will ingrain the image of Santa dashing away in his miniature sleigh with his eight (or nine, 🙂 ) tiny reindeer in their minds. It will become a treasured Christmas memory and a tradition that they will continue with their kids for years to come!
Do you love Christmas printables as much as we do? We've got lots of Free Christmas Printables and Free Printable Christmas Coloring Pages for you to choose from on our site!
Single Page Printables
The printables below can all be printed on a single page for easy use!
Two-Page Printables
The printables below are PDFs that contain two pages. The red background is used to illustrate this. The printables themselves will not have a red background but can then be printed either as two pages or double-sided with words from the poem that are a little larger and easier to read for some who might need such a printable.