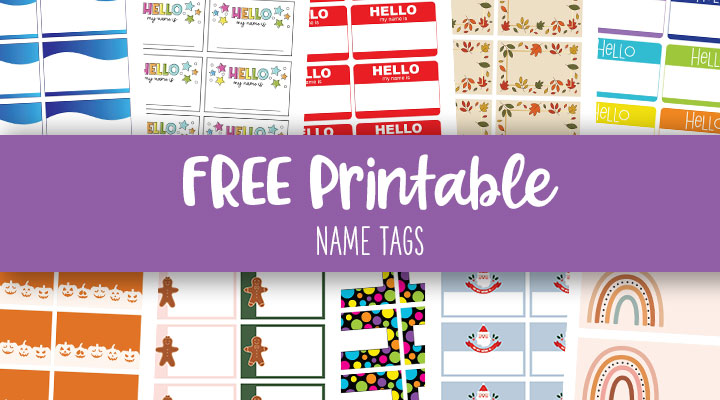 Name tags are useful in pretty much any setting – work meetings, school classrooms, and even holiday gatherings. Not only do they introduce everyone to each other if they haven't met before and help people get to know everyone's names, but they can also prevent some awkward situations where perhaps names have been temporarily forgotten the moment they need them…it happens to the best of us! Bottom line, name tags just make everyone feel more comfortable when having to interact with others!
Below, you will find a bunch of Free Printable Name Tags that can be used in so many ways! You will find many designs that are neutral and can be used for any occasion, but you will also find some specific to schools such as student name tags and school desk name tags (the long ones that go on each student's desk to they know where to sit and so classmates and teachers can learn their names). You will also see some holiday-themed name tags that can be pinned to a shirt or used as place cards (though we do have some Thanksgiving-specific place cards too!). Whether it's fall, Halloween, Thanksgiving, or Christmas-themed name tags you're looking for we've got something for them all!
All you need to do to get your free printables anywhere on our site is follow these three easy steps:
Click on the image of the printable you'd like to use,
Download the PDF file to your computer, and
Print!
Now you just need a small table, some sticker paper (aff link) (or ID lanyards or safety pins), and a few pens or Sharpies (aff link) to take the stress off of trying to remember everyone's names!
Name Tags
Hello My Name Is Name Tags
Student Name Tags
School Desk Name Tags
Fall Name Tags
Halloween Name Tags
Thanksgiving Name Tags
Christmas Name Tags