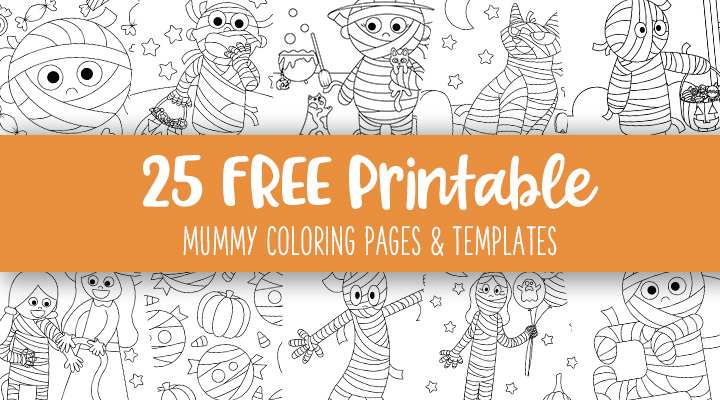 When we think of the most popular Halloween costumes across the ages we think of the very best classics like vampires, witches, zombies, skeletons, ghosts, and of course, mummies! Whether you invest in a commercially-made mummy costume or create one using toilet paper and a bit of gray and white makeup it matters not – everyone recognizes a mummified body with its loose-fitting linen-like bandages and wrappings.
If you or your little one are dressing up as a mummy for Halloween, or if you have a Halloween party where children will be in attendance, then a Halloween-themed coloring activity is a must and these Free Printable Mummy Coloring Pages & Templates are the perfect addition! All you need to do to get a bunch of free mummy coloring pages to print at home is to click on the image(s) of the coloring pages you'd like to use from the options below, download the PDF file(s) to your computer, and print! And no worries – while Halloween may seem spooky to some, our coloring pages are fun and friendly and are sure to bring a smile to everyone's faces…even the jack-o-lanterns!
For more free Halloween printables, be sure to check out our Halloween Page and our Halloween Coloring Pages!
Mummy Coloring Pages
Mummy Templates