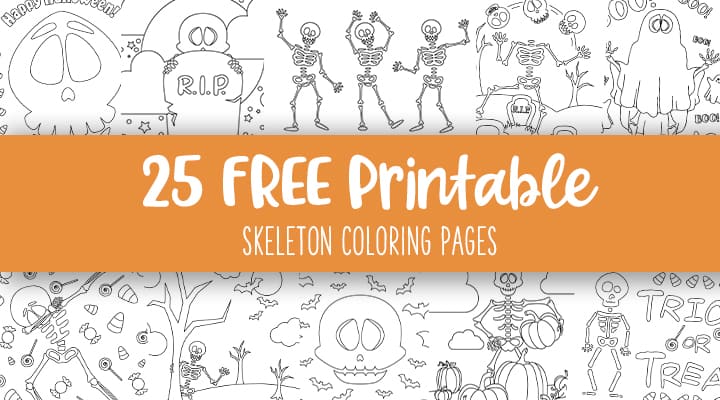 Skeletons are not just a way to learn about human anatomy, they are also an iconic symbol of Halloween. Whether you display skeletons in your Halloween decor, hang a paper version on your front door, or dress up as one on October 31st, skeletons need not be scary! In fact, you could take any (or all!) of the many Halloween Skeleton Coloring Pages seen below and add them to any of our other Halloween-themed coloring pages (links below) to make a festive Halloween coloring book or activity center!
All you need to do to get these or any other printable on our site (they're all free to print and use!) is follow these three easy steps:
Click on the image(s) of the printables you'd like to use,
Download the PDF file(s) to your computer, and
Print!
Once you've printed all the coloring pages you want, you can either bind them or take them to an office-supply store to be bound to make a Halloween coloring book (much like how we bound our Free Printable DIY Planners) or you can simply print them and offer them a la carte for your children or students to color. Now grab your favorite coloring utensils and get creative!
Free Printable Happy Halloween Coloring Pages
Free Printable Haunted House Coloring Pages
Free Printable Halloween Cat Coloring Pages
Free Printable Witch Coloring Pages
Free Printable Bat Templates and Coloring Pages
Free Printable Pumpkin Coloring Pages
Free Printable Halloween Ghost Coloring Pages
Free Printable Halloween Borders and Frames
Free Printable Halloween Signs
Free Printable Halloween Word Searches