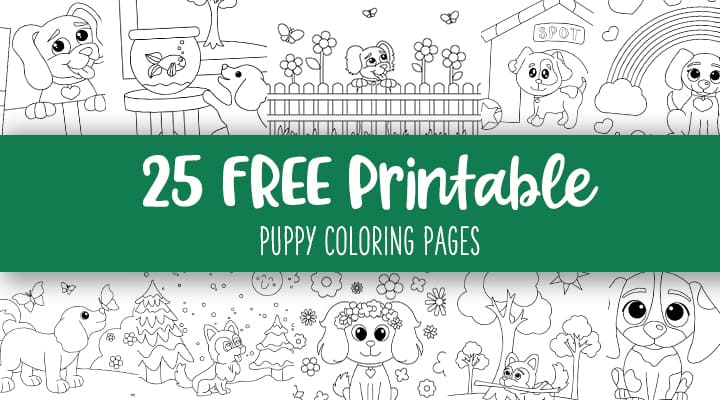 While we love dogs, as evidenced by our Free Printable Dog Coloring Pages, there is really nothing quite as adorable in the animal world as a brand new puppy! While their adult counterparts are man's best friend as loyal, obedient dogs who aim to please, little puppies with their miniature features, love to chase, bark, pounce, and growl – but they are all the cuter for it! While they still require a lot of training, we love puppies' youthfulness and playfulness, which we tried to capture in these Free Printable Puppy Coloring Pages.
While raising a real-life puppy can be a challenging and time-consuming job, printing these Puppy Coloring Pages is quite the opposite!
To grab your free printables (anywhere on our site!) all you need to do is follow these three easy steps:
Click on the image of the printable(s) you'd like to use,
Download the PDF file(s) to your computer, and
Print!
Now all you need are some crayons, markers, or colored pencils to enjoy the adorableness of all things puppy!
If your kids love animals, be sure to check out more of our Free Printable Animal Coloring Pages:
Free Printable Shark Coloring Pages
Free Printable Butterfly Coloring Pages
Free Printable Bunny Coloring Pages
Free Printable Lion Coloring Pages