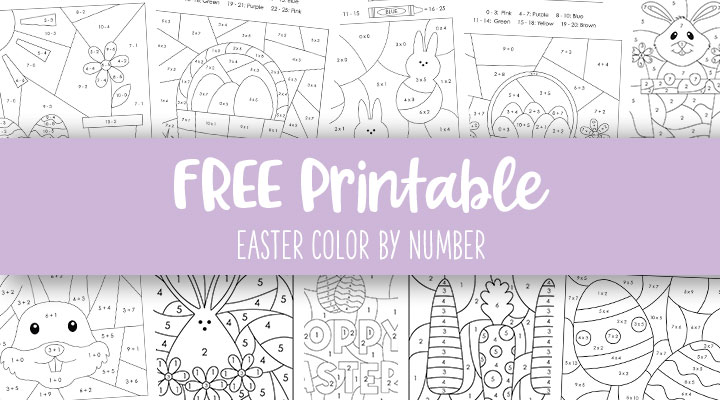 Color By Number pages are always a favorite. Not only do they end up looking like a stained-glass masterpiece by the end but you also have no idea what all the colors and shapes will look like all together until it's done – it's always a surprise! While some color-by-number pictures are simply a matter of coloring the appropriate color in the numbered shape, some can be a little more involved such as those where a math equation needs to be solved before any coloring can take place. Depending on the age and math skill level of your child or student these can be both challenging and very rewarding!
The Free Printable Easter Color By Number Pages below join our ever-growing library as we have other Color By Number pages already available:
St. Patrick's Day Color By Number Pages and Thanksgiving Color By Number Printables
To print your Easter Color By Number Pages absolutely free all you need to do is click on the image(s) you'd like to use below, download the PDF file(s) to your computer, and print!
We're so excited for you, your children, and your students to use these and our other free Easter printables and/or all of our Easter coloring pages:
Free Printable Easter Egg Templates & Coloring Pages
Free Printable Easter Coloring Pages
Free Printable Easter Egg Hunt Clues
Free Printable Easter Bunny Coloring Pages
STANDARD EASTER COLOR BY NUMBER PAGES
MATH-BASED EASTER COLOR BY NUMBER PAGES