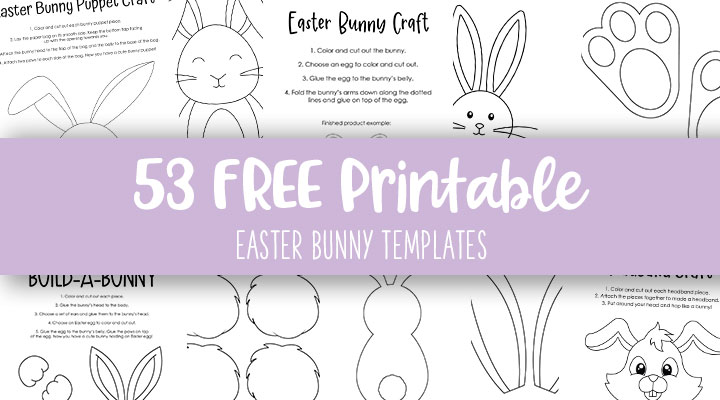 If you've already seen our Easter Bunny Coloring Pages then you know there are lots of ideas or ways to illustrate what the Easter Bunny might look like. Between his (her?) smile, ear length, teeth, eyes, and just the overall look there is lots of room for interpretation, especially when it comes to what younger children imagine the Easter Bunny to look like!
With these Free Printable Easter Bunny Templates and Outlines children can take the basic shape of the Easter Bunny as a starting point and color and/or cut them out to their hearts' content. Or, as a parent or educator, you could use the templates to print bunny shapes on patterned paper to decorate your home or classroom for Easter. You or your children/students could also use the outlines to create Easter cards for their families and friends. Further, the templates and outlines below will work for crafts, headbands, puppets, and even as coloring pages if you so desired. There really are countless ways you could use these pages!
To print your own for free all you need to do is click on the image(s) below of the ones you'd like to use, download the PDF file(s) to your computer, and print! What an easy and inexpensive way to create a fun Easter activity!
For more Free Easter Printables, check out some of our other Easter posts:
Free Printable Easter Egg Templates & Coloring Pages
Free Printable Easter Coloring Pages
Free Printable Easter Egg Hunt Clues
Free Printable Easter Color By Number
Pages with a colored/solid background simply indicate that there are multiple pages in the PDF download. All downloads will have a solid white background. Enjoy!
Bunny Templates & Outlines – Full Bunny
Bunny Body Templates & Outlines
Bunny Face/Head Templates & Outlines
Bunny Feet Templates & Outlines
Bunny Ears Templates & Outlines
Bunny Tail Templates & Outlines
Bunny Templates & Outlines For Crafts, Headbands, & Puppets