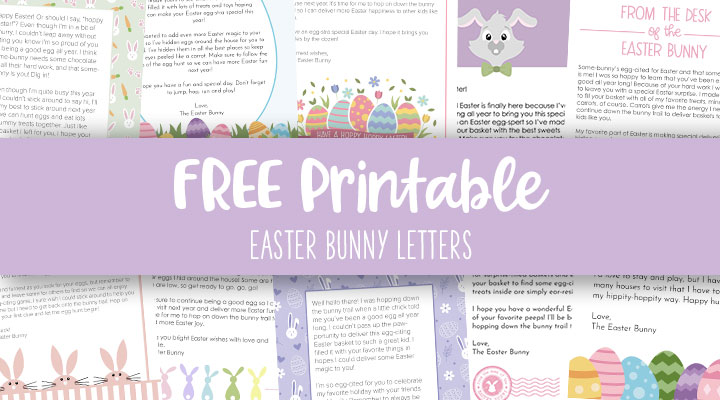 We know from experience that children love receiving letters, notes, and cards. Their eyes light up with joy when they receive Valentine's Day Cards in the mail, Birthday Cards from friends and family, and especially letters from Santa (you can use our Santa Letterhead Templates to pull this off). And this Easter they will be so surprised and happy to receive a letter from the Easter Bunny too!
Below, you will find 15 free printable Easter Bunny Letters on which you, er, the Easter Bunny can write a special note (some of the pages are "from the desk of the Easter Bunny" pages!) letting your children know how special, loved, and appreciated they are (and maybe it will be attached to some Easter Egg Hunt Clues that will lead them to their Easter baskets!). Each Easter Bunny Letter below has a pre-written note that you can use without any changes or a blank template if you prefer to write your own note and personalize it a bit more to your kid(s)! Either way, your kids are sure to love the letter/note not to mention all the sweet treats that come with Easter Day.
To see a huge smile on your children's faces on Easter morning this year (and every year to come!) you need only print out one of our Free Printable Easter Bunny Letters below and it couldn't be any easier! (We know filling all those Easter eggs and preparing a big Easter dinner will be plenty enough to do – these Easter Bunny Letters will take no time at all!) Simply follow these three easy steps:
Click on the image of the Easter Bunny Letter you'd like to use.
Download the PDF file to your computer.
Print!
For more Free Easter Printables, check out some of our other Easter posts:
Free Printable Easter Egg Templates & Coloring Pages
Free Printable Easter Coloring Pages
Free Printable Easter Bunny Coloring Pages
Free Printable Easter Bunny Templates & Outlines
Free Printable Easter Color By Number Pages
The preview images below all have a purple background only in order to show the pre-written letter AND the blank version of any given design. Both are contained within the respective PDF by clicking on the image of the letter you want to print and use as your letter from the Easter Bunny.