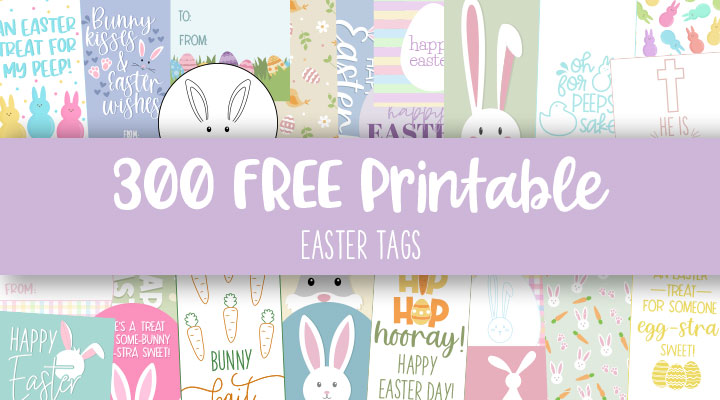 We love every opportunity to give a gift to neighbors, teachers, family members, and friends. Part of the fun of presenting someone with a gift (besides seeing the big smile on their face!) is wrapping it up in pretty packaging. Whether you like to wrap yours in wrapping paper, in a gift bag, or tied up in cellophane, a gift tag is like the cherry on top!
We know our free printable gift tags for other occasions such as our Valentine's Day Gift Tags, Halloween Gift Tags, Christmas Gift Tags, Santa Gift Tags, Thank You Tags, and our Gift Tags for Any Occasion have been a big hit and figured it was about time to add some Free Printable Easter Tags!
Whether you attach your Easter gift tags to a bouquet of tulips, an Easter basket, or a homemade Easter treat we know your gift will be a big hit, and the recipient(s) will feel so loved this Easter!
To print your Free Printable Easter Tags, all you need to do is click on the image that includes the tag(s) you'd like to use (Happy and Hoppy Easter, Easter Bunny, Easter eggs, black and white and so many more types of gift tags to choose from!), download the PDF file(s) to your computer, and print!
For more Free Easter Printables, check out some of our other Easter posts:
Free Printable Easter Egg Templates & Coloring Pages
Free Printable Easter Coloring Pages
Free Printable Easter Egg Hunt Clues
Free Printable Easter Bunny Coloring Pages
Free Printable Easter Bunny Templates and Outlines
Free Printable Easter Bunny Letters
Free Printable Easter Color By Number
The tags below are divided into 5 "sets" with each set containing 12 unique designs across 5 different shapes. Set 1 is made up of Happy Easter gift tags, Set 2 is full of the Easter Bunny, Sets 3 and 4 are a mix of everything including cute patterns, bunnies, eggs, Easter puns, etc., and Set 5 includes a few black and white Easter tags and a mix of others. All to say, we're sure you'll find a free Easter tag and shape you'll love!
Easter Tag Set 1 (Happy Easter Tags)
Easter Tag Set 2 (Easter Bunny Gift Tags)
Easter Tag Set 3
Easter Tag Set 4
Easter Tag Set 5