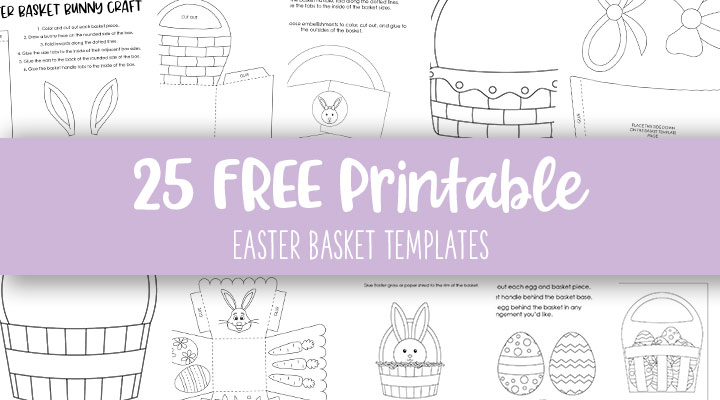 Spring is right around the corner and with it comes one of our favorite holidays! Easter is a wonderful opportunity to create some adorable crafts and to set up Easter-themed activities at home. Anything involving chicks or other baby animals, springtime flowers (you may enjoy our Free Printable Flower Coloring Pages), Easter eggs (we have Free Printable Easter Egg Templates & Coloring Pages too!), and of course anything to do with bunnies and their carrots, are totally appropriate for this holiday! 
Easter egg hunts are also always a popular tradition and Easter baskets are needed to make it easier to collect your prize-filled eggs. We figured combining Easter crafts and baskets for your egg hunts would be a great way to accomplish both the crafting and activity aspects at one time! Below, we have several Free Printable Easter Basket Templates for your children or students to color, cut out, put together, and create! While the baskets are more likely to work simply as crafts if they want to try and use them as their actual baskets for their Easter egg hunts (cardstock versions are much more likely to work than normal paper given the weight of the eggs) this year then they can give it a shot!
All you need to do to get your free printable Easter baskets is click on the image(s) you want to use below, download the PDF file(s) to your computer, and print! Then gather your favorite crafting supplies such as cardstock, colored pencils or markers or crayons, glue or tape, scissors, and maybe a few other items necessary to build your Easter basket. Then get creative! (Links in this paragraph are affiliate links.)
For more Free Easter Printables, check out some of our other Easter posts:
Free Printable Easter Coloring Pages
Free Printable Easter Egg Hunt Clues
Free Printable Easter Bunny Coloring Pages
Free Printable Easter Bunny Letters
Free Printable Easter Bunny Templates and Outlines
Free Printable Easter Color By Number
The preview images below all have a purple background only in order to show all the different parts of any given Easter basket craft. For any given Easter basket template, all necessary elements are within a single PDF with all pages having a white background. Simply click on the preview image of the basket you'd like and your PDF will open in a new tab.