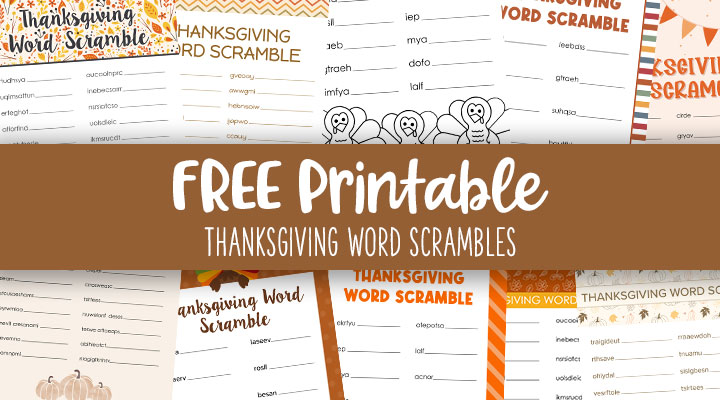 We all know that Thanksgiving Day is a super busy day filled with meal prep, setting the table, and otherwise getting ready for guests to arrive. While you're scurrying around trying to put the finishing touches on your turkey and timing all the dishes to perfection there are undoubtedly several people anxiously awaiting the Thanksgiving meal. Whether you are entertaining children or adults (or both!) having a few activities available to keep them occupied while you pull everything together can save you a bit of sanity and also make the wait fun for your guests. Don't fret – we've got 10 Thanksgiving Word Scrambles below to help you keep them all entertained! And the best part is that they're FREE and are so easy to print from home!

There are 5 word scrambles for kids and 5 word scrambles for adults. All you need to do is decide which ones you want to use (or you could even use them all!), download the PDF files to your computer, and print! It really is that easy. If only washing all the dishes and clean up after the Thanksgiving meal was this easy…

If you're looking for even more fun activities to provide your guests on Thanksgiving Day (or even for your children the whole month of November) be sure to check out a few of our other free printables, such as our Thanksgiving Word Searches and 10 Printable Thanksgiving Placemats. And while you're at it, if you're needing to keep yourself organized this month with all you have going on go ahead and print your favorite November 2022 Calendar and Thanksgiving Cooking Schedule.
Thanksgiving Word Scrambles For Kids
Thanksgiving Word Scrambles For Adults