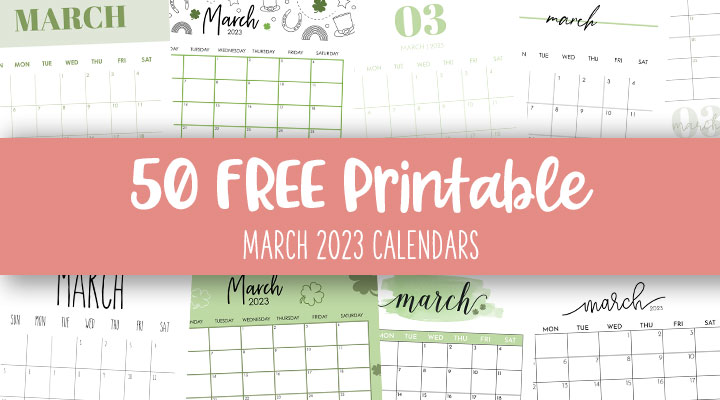 March is the month that, speaking of the weather, can come in like a lion and out like a lamb or vice versa – we never know! Spring weather wants to show up but winter is not quite finished with its low temperatures and random blizzards. It's such an unpredictable month! But one thing we know for certain: there is much to plan! Whether it's your work schedule, assignments coming due (if you have lots of assignments and due dates coming up you'll want to check out our Free Printable Assignment Trackers too), appointments to make, or even playdates, meals, or workout schedules to plan, you'll want to print out one of our many, many March 2023 Calendars to keep yourself organized!
If you have things to plan, in spite of fickle March weather, then look no further than the end of this post. Scroll your way through and find the Free Printable March 2023 Calendar that is just right for you, click the image, download the PDF file to your computer, and print! It really is that easy!
And to make sure you get all the things organized this month, check out some of our other free printables:
Free Printable Monthly To Do Lists
Free Printable Weekly Planners
Free Printable Two Week Planners
Free Printable Monthly Budget Planners
Lastly, it's not too late to stay organized for the entire year so don't miss out on all of our free printable 2023 planners and planner pages!!
Free Printable 2023 Planners <– This one has links to all the different free planner pages provided.
DIY Planner <– This one has helpful information on how to make your own planner from scratch with our pages!
Monday Start Calendars
Large Print Calendars
Calendars With Week Numbers
Spanish Calendars – Calendarios Imprimibles de marzo 2023