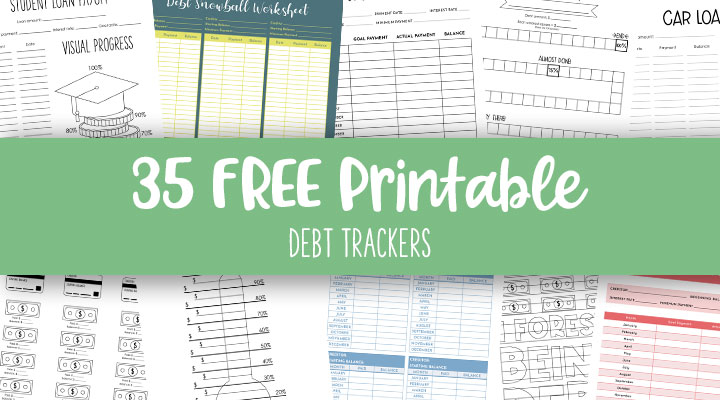 If you've been trying to get out of debt then you know how important it is to keep track of your payments and progress. Setting goals, knowing how much you can afford to pay, making payments on time, and being sure you are making the progress you need to are essential to paying off debts as quickly as possible. Below, we've got lots of free printable debt trackers (and debt payoff planners, debt snowball worksheets, debt thermometers, etc.) to help you work towards being debt-free. This variety of debt trackers also includes ones for car loans, credit card debt, mortgages, student loans, and blank ones that allow a variety of debt sources to be tracked and paid off. While it's never easy, there might not be anything else as gratifying as eliminating debt and the interest payments that come with it! 
All of these work wonderfully in conjunction with our Free Printable Bill Organizers, Free Printable Budget Planners, and Free Printable Expense Trackers. Be sure to jump to those posts once you're done here to equip yourself with everything you need to successfully work towards reducing (and eliminating!) your debt.
For the debt trackers provided here, all you need to do is scroll through the images below and decide which one you think will be the most helpful and beneficial for your personal finance circumstances, click on the image, download the PDF file to your computer, and print! It really is that easy to get started on your journey to becoming debt-free! Good luck!