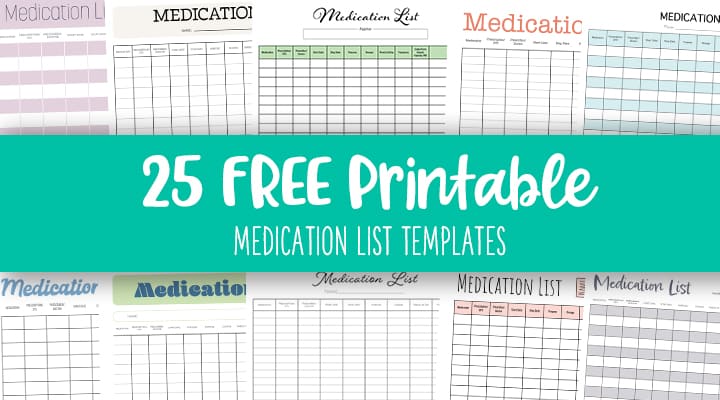 If you are currently on a number of medications for various ailments you know that it can be a lot to manage. Medications typically need to be administered at specific times in specific amounts and some of them may even look similar. That's why it's important to keep all your information about each medication in one place so you can recall the important aspects of each one. Each Free Printable Medication List Template you see below has several ways to keep your list of medications straight: its name, whether it is prescription or over-the-counter, which doctor prescribed it, the start and stop dates, its purpose, the dosage and times of day you need to take it, the frequency, and a description of the medication itself (color and form). There is even a notes column to record anything else your medical professional may have asked you to make note of. Phew! That's a lot of information to keep straight, especially for multiple medications! Not only will having all this information on hand give you what you need to make sure you are taking each medication correctly, but you can also take it to your doctor if you have any questions about the current medications you are using.
To get your Medication List Template just follow these three easy steps:
Click on the image of the template you think would work best for you,
Download the PDF file to your computer, and
Print!
If you want more free printables to help you in your journey to good health (all of them are here: Health Printables), check out some of our other posts:
Free Printable Body Measurement Charts
Free Printable Weight Loss Trackers
Additionally, don't miss our companion posts (same design options so your printables match but have different purposes and functionality) with these printables:
We are not medical professionals. We strongly recommend you follow any/all professional medical advice you have received and use these printables only where they support said medical advice.